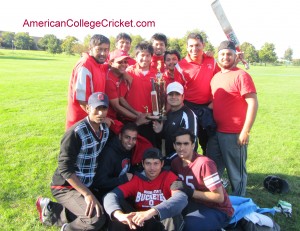 As announced in 2011 the Semis and Finals of ALL the 2012 regionals will be televised by TV Asia – a total of at least 18 more matches in 2012. TV Asia will also televise the 2013,2014,2015 & 2016 American College Cricket seasons. 
Coca Cola sponsored the national Championship in March, and will be the main sponsor of the regionals in 2012.
The dates of the Midwest and Northeast regional Championships have been set. The Mid Atlantic, South East, West Coast & South West will follow.
The Midwest regional for the Gordon Gee Trophy will be on Sept 29 & 30, in Ohio. This year the Great Plains regional will be merged with the Midwest to faciltate televising. Gordon Gee is the President of Ohio State University.
The Northeast regional will be held on Sept 22 & 23, in New York City. Additionally the weekend of Sept 15 & 16 may be utilised for matches involving the All America, All Canada & a Special Guest team.
Ohio State Buckeyes ( # 7) are the defending Midwest Champions, Ryerson Rams (# 5) the Northeast Champs and Iowa State Cyclones( # 8) the Great Plains Champions.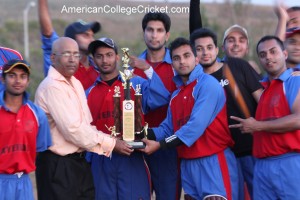 The dates and venue are subject to change if TV logistics dictate.
FREE uniforms will be provided to ALL teams by American College Cricket sponsor Coca Cola. (Teams from the nationals already received theirs).
For top quality equipment such as helmets,colored & white pads, gloves, guards (arm, thigh,chest,ribs), balls, stumps etc you may purchase at a LOW price through American College Cricket by emailing :
Equipment Items will be displayed on AmericanCollegeCricket.com soon