USC President Max Nikias,in India, presenting a Trojans Cricket shirt to Ratan Tata, Chairman of Tata Group. Photo courtesy USC.
 York College has about 8,000 students and is a part of the City University of New York system. 
Only 45 years old,it has never won a national title in any sport. Furthermore it never competed with the big names in college sport, until 2010 !
That was when American College Cricket President Lloyd Jodah and student Suleman Mohammed began a cricket club at York College. The hurriedly pulled together team reached the Finals that year. Missing 2011, the York College Cricket club came back, and made the Finals of the 2012 National Championship, facing University of South Florida !
Their success begs the question, what took so long ? In a city where a large % of the population come from a "cricket background" & an even greater % attend York College.
University of South Florida is the 8th largest university in the US, with student enrollment of nearly 50,000. It ranks highly in many categories, including research and Graduate studies. Its budget in 2010 was $ 1.8 Billion.
USF Bulls has won 2 bowl games in football and competes in NCAA Division 1 in a number of sports.
Is it reminiscent of the David vs Goliath battles ? Well, cricket is giving smaller schools opportunities to play on a bigger stage – getting not just national attention, but valuable International publicity.
Some school Presidents make trips to India, and open offices abroad to increase their global profile and get the attention of valuable and high performing International students and benefactors – a vibrant cricket team can do it for them at a fraction of the cost.
No surprise then that the University of Southern California (USC) included its cricket club in its Global Promotion video recently (viewable on the USC website). When USC President Max Nikias visited India last year, he presented Ratan Tata, Chairman of Tata Group, one of the world's largest conglomerates with a USC Cricket shirt. In 2011 Tata donated $ 50 Million to his alma mater Harvard University. 
No other sport can do for a school what cricket has the potential to do – if its realised.
The York College Cardinals made the trip from Queens, New York City. Having no no field,they had not played together. To make it tougher, the Cardinals came from winter, and had no indoor facilities to practice.
Both teams bulldozed past other top teams to get to the Finals. USF has master blaster Sai Ramesh, and dynamic Ashgar Sheikh, whilst York College has Karan Ganesh and Akeem Dodson, all in tremendous form leading the way. 
So this Saturday tune into TV Asia at 7 pm to watch York College step onto the world stage and take on the University of Florida for the national title,a night game under lights at the CBRP Cricket Stadium in Florida.
As American College Cricket Champions the winning team will know that they are the # 1 college in the US and Canada, and take home a Trophy named after one of the world's best, Shiv Chanderpaul, # 10 on the list of alltime run scorers (Tests) in the world.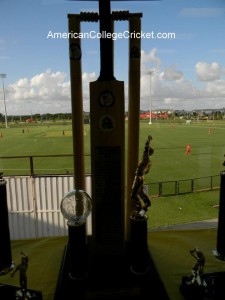 Shiv Chanderpaul Trophy. Photo by Amer Zahoud