Now in it's fifth year, Buckeye Mela began as a spring cultural weekend hosted by the Indian American Association in 2008 entertaining over 700 people.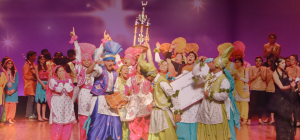 In 2009, Buckeye Mela became a collaborative event with the South Asian Students' Association and the Indian Student's Association, which brought Srujan, the intercollegiate dance competition, into the mix.
With Buckeye Mela 2 also came a philanthropic mission– raising money for local charity, The Mid-Ohio Food Bank. In the past three years, Buckeye Mela has raised over $18,000 for charity and was awarded "Most Outstanding Program in the University" in 2010.
President of the Ohio State Cricket Club, Anupam Vivek is one of the organizers this year. Ohio State, the 2011 Midwest Champs, recently competed in the American College Cricket Spring Break Championship.
For more on Buckeye Mela    http://www.isaosu.com/bmela/