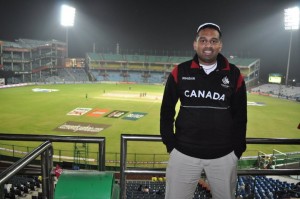 by Lloyd Jodah
I met Ravin Moorthy in 2008. Later, in early 2010 Ravin played a significant role in Toronto's York University participating in the 2010 American College Cricket Spring Break Championship. 
My goal was to stimulate the development of cricket at the University level in cricket – Ravin immediately understood my vision and encouraged York University, which came, saw, and conquered, winning the Chanderpaul Trophy.
Indicative of his cricket foresight, Ravin joined the American College Cricket Advisory Board, and put the webcasts of the 2010 American College Cricket Spring Break Championship on the Cricket Canada website.
York U Cricket was catapulted onto the pages of Canada's top newspaper, Globe & Mail, and into the University media. York U stars such as Khushroo Wadia and Raza Rehman have been selected to play for Canada. 
A Canadian Universities tournament was started, and I began more teams at McGill and Queens University. Ravin was particularly pleased when I started the team at McGill, his alma mater. McGill was later was featured on CBC, and Ryerson is now a new strong force. 
It is with pleasure therefore we see Ravin Moorthy was elected as the new President of Cricket Canada ! 
In brief remarks on Monday, Cricket Canada's new President was grateful for the responsibility given by the board. 
"I would like to thank the Board of Directors for showing their confidence in me to lead Cricket Canada through this important period of growth and development.  Cricket is cross-cultural, generational, and connects millions of Canadians in communities across the country.  Cricket Canada will be calling on all stake holders including Canadian Corporations and the Government of Canada to support the organization through these exciting next steps." 
Ravin is the first Albertan to assume the post of President and has established a solid reputation for consistent success in both program & portfolio managment and organisational governance.  He has held multiple executive positions within Cricket Canada, Cricket Alberta, and the Calgary & District Cricket League and is a member of the American College Cricket Advisory Board, during a period of 15 years volunteer service to the sport in Canada.
Ravin Moorthy is a graduate of McGill University.