Texas A & M University's Anurag Verma said, "The telecast was really good and professional.. thanks for the good work ! " 
Baiju Shah (Texas Tech) said, "heard some good feedback bout the telecast… go ACC ! " Swapnil Sheth (Virginia Tech), "It was very good ! "
Bilal Shah (York College), " Game was amazing–International level broadcasting! Super Work done by whole Team TV Asia and
Lloyd Jodah
 !" and fan Allan Sharma, "Great game ! "
# 1 ranked undefeated Texas A & M University faced 2010 Finalist York College in the final four, each team determined to be the one to face University of South Florida in the Finals for the Chanderpaul Trophy, at the Coca Cola sponsored national Championship.
There were lots of reasons for the players to be nervous, they were playing on national TV, and setting a standard for cricket in America. They were also doing it in an Internationally certified cricket arena, comparable to top cricket stadiums around the world.
A quick 11 by strongly built all rounder Bilal Shahid got York College to a flying start, but he was caught by the keeper Mehta off Wasif Kah, then USA player Akeem Dodson was caught by Anurag Verma b
R Soorianarayanan
 . At 16 for 2 York College was struggling.
But Karan Ganesh smashed 5 fours and 1 six in 31 balls to score 44 .Captain Abbas Khizer made room and cleared the off side many times to get 35 (4 fours,33 balls) whilst Hashi Choudry 19, and Semas Rehman 15, helped get the score to a respectable 147 for 8 off 20 overs.
Soorianarayanan injured his finger badly and had to leave the field, in his interrupted spell taking 1 for 19, Kothalkar had 2 for 22, and Wasif Khan 2 for 24.
The Aggies had the batting power to get the runs, especially with dynamic stroke player Anurag Verma. However, perhaps the pressure of the situation got to them. Tight bowling by pacer Yasin Khan, coming off a short run up and focusing on swing,line & length and Karan Ganesh, opening with his off spin.
For the first time too, Texas A & M's running between the wicket was not good, and Anurag Verma slipped in trying to get back into his crease and was run out for 12.                                                                                                             
Angad Mehta made 26 off 32 balls,with 2 fours.
Texas A & M University finished on 76 for 9, Soorianarayanan could not bat. The telling statistic was that only 4 fours, 0 sixes were struck by the Aggies batsmen, as York College got the win. Ganesh 1 for 11 plus a run out,Suleman 2 for 10, Rod Michael 2 for 11.
Karan Ganesh (York College) was declared the Game MVP.
Texas A & M University and York College had participated in another great step for cricket in the US & Canada, and the world- competitive domestic cricket on American & Canadian TV – significant for the cricket world, and for the huge college sports world of America. 
SCORECARD by Satish Hanumanthu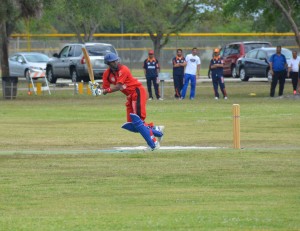 THE FINALS WILL BE TELEVISED at 7pm, Sat April 7,on TV Asia.
University of South Florida vs York College !
KARAN GANESH (York College)