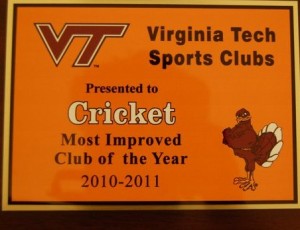 The Cricket club of Virginia Tech has their own cricket field. They graduated from half a pitch, to a full pitch in 2010, when they made their American College Cricket debut.
–
The Hokies also play in the local league, the Mid Atlantic Cricket League, and so have lots of practice playing together and will be a force to reckon with in the strong Group D.
2011 National Champion George Mason, 2010 Champion York University, # 2 seed Ohio State, Great Plains Champion Iowa State, # 12 ranked Texas Tech and Carnegie Mellon was a Finalist in the 2011 Mid West Regionals.
Anthony Sahadeo will accompany the team as Coach/Manager. Anthony is with the US Navy, and the Secretary of the Mid Atlantic Cricket League. He also plays for the Tide Water Cricket Club.
Swapnil Sheth, their Club President had this to say: 
"We also are thankful to the Mid Atlantic Cricket  League for providing financial support worth $ 200.  We sincerely acknowledge the sponsorship worth $ 385 thanks to the efforts of Teju Patadia. CCVT also is grateful to VT Rec  Sport ( Mr. Alan Glick and D.J Preston) for offering valuable support to the best of their capacity.
 A big thank you to Mr. Anthony Frayne who has willingly accepted CCVT team as his guests in his house. Special thanks to American College Cricket Team headed by President Mr. Lloyd Jodah for building the much needed platform for college level cricket in USA."
Virgina Tech Hokies ROSTER :
1.Swapnil Sheth                                                                                           
2.Kareem Akhtar 
3.Teju Patadia 
4. Harris Khan 
5. Raman Deep Matiana 
6. Nabeel Chohan 
7. Rahul Dev 
8. Carlington Wallace 
9. Jasim Khan 
10. Kartik Radhakrishnan 
11. Yash Patel 
12. Aniruddh Roy 
13. Anthony Frayne