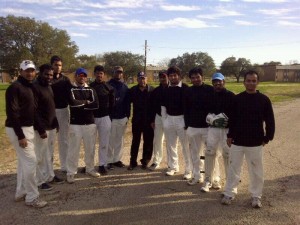 The University of Houston Clearlake Cricket Club is a perfect example of what strong leadership can do…..and what our American College Cricket students-athletes can accomplish.
Vivek Kotadia attended and played for Cleveland State in last semester's Midwest Championship, then this semester transfered to UH Clearlake to continue his software studies. 
He immediately asked me if he could start a team there, and within a month the UH Clearlake Blue Herons were competing in the Southwest regionals !
They looked strong, giving Texas A & M their toughest game, and was invited to the Spring Break Championship, and again Vivek's organisational skills ensured the team's participation. 
Their top allrounder Srikant Gutlapalli scored 48 runs, and took 4 wicket. He doubles as the team Coach (being a Coach is one of his career goals.
Vivek and the Club "made a presentation to Mr Andrew, SLO head, who promised us that the Registration Fee would be funded by the Unniversity, and he also promised his help in gathering more funds."
UH Clearlake Blue Herons ROSTER:
1.      Vivek Sanjay Kotadia (President)
2.      Prashanth Manne (Captain)
3.      Srikanth Gutlapalli (Coach)
4.      Aditya Singh Thakur (WK)
5.      Ramesh Kumar Raju Gangaraju
6.      Sachin Kumar Kusuma
7.      Krishna Amaravadi
8.      Sandeep Amarapu
9.      Vimal Krishna Prasad Suri (Alumni)
10.  Karthik Chakravarthy Vadlamudi (Alumni)
11.  Raviteja Potla
12.  Rahul Gullopudi
13.  Sandeep Noidu
14.  Srikanth Anamula