Rutgers University won the 2010 American College Cricket North East Championship led by captain Nisarg Choksi, and have shown an ability to play as a tight unit.
Their Club President Hardik Jogani is a 2011 Club President of the Year, played a major role in TV Asia becoming the Exclusive Media Partner of American College Cricket, and ensures the team is well organized, and practices.
Two recent players on the team will not be touring with the squad : Mital Patel is currently in India in camp with the Mumbai Indians, trying to make the team; and Muhammed Ghous is with the USA team in Dubai for the ICC World Cup Qualifiers.
However the Choksi feels the team is ready to challenge successfully for the national Championship, and the Chanderpaul Trophy.
Rutgers' Daily Targum sent off the Club with a feature READ HERE :
http://www.dailytargum.com/news/university/club-sport-reaches-championship-tournament/article_11048128-68dc-11e1-875d-001a4bcf6878.html
Scarlet Knights ROSTER:
Nisarg Chokshi
Udit Patel
Parth Shah
Jay Patel
Shrey Shah
Bhargav Patel
Achal Shah
Mohammad Chaudhry
Taha Khan
Haider Ali
Kalim Ahmed
Manpreet Singh
Hardik Jogani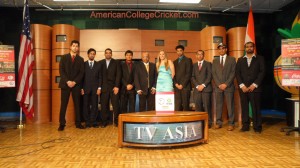 Hardik Jogani, Kalim Admed & Sapan Shradha of Rutgers Cricket Club were among the student-athletes.