Led by 21 year old Haris Mohiuddin, who had a spell of 3 over,3 wickets for 7 runs in the 2011 Midwest regional, and a very good batsman, the Penn State team is young, comprised mainly of 19, 20 & 21 year olds. One player, right arm off spinner & batsman Chirag Mehtani is just 18 years old. 
After not making it to the nationals in 2010 or 2011 the team underwent a metamorphosis through the passionate leadership of Haris, and is eager to make its mark. Even Haris' demeanour on the field is like that of a (Nittany) Lion about to strike. 
Right arm fast bowler Rishab Bahel took 4 wickets for 15 against the strong York College batting. Big Rohit Reddy is a powerful striker of the ball, and the team has been practicing hard, and often, and will be accompanied by Coach David Chakravorty. 
Penn State is in a tough Group A, where 4 of the other teams have a strong record – current # 1 Texas A & M and UMBC,University of Pennsylvania and USF who have all made the Semis before. Only new teams Arkansas State and Embry Riddle are of unknown strength. 
The team: 
1. Haris Mohiuddin (Captain)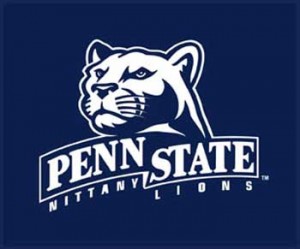 12. Rahul Ganesh Bhimanapati
14. David Chakravorty (Coach)