On College campuses across the USA and Canada there's a buzz, in a version of March Madness one might call Cricket Craziness ! Colleges from the USA and Canada will compete again for the Chanderpaul Trophy at the 2012 American College Cricket Spring Break Championship, March 14 to 18 in Ft Lauderdale,FL.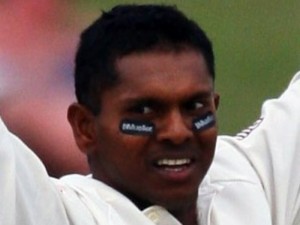 It's the national Championship for cricket and International cricket superstar Shiv Chanderpaul (# 10 on the List of All time run scores in the world) may present the Chanderpaul Trophy.
March 18, TV Asia will cover play by play of the Semis and Finals.
The 28 teams are :
Boston University – Terriers
Arkansas State – Red Wolves
Carnegie Mellon – Tartans
Cleveland State – Vikings
Texas A & M – Aggies
Ohio State – Buckeyes
University of Florida – Gators
Ryerson – Rams
Rutgers – Scarlet Knights
Auburn – Tigers
George Mason – Patriots
University of Pennsylvania – Quakers
York University – Lions
University of Houston – Cougars
Texas Tech – Red Raiders
University of South Florida – Bulls
York College – Cardinals
NYU-Polytechnic – Fighting Blue Jays
University of Maryland-Baltimore County – Retreivers
Montgomery College – Knights
Iowa State – Cyclones
Virginia Tech – Hokies
Penn State – Nittany Lions
University of Houston Clearlake – Blue Herons
George Washington – Colonials
Embry-Riddle – Eagles
College of Wooster – Fighting Scots
McGilll – Redmen
From 2009 American College Cricket has set the bar higher for cricket in the USA and Canada, first by simply having a College Championship,and from the beginning planning the event as a TV-ready event.Next, by being the first to webcast.
This year, the focus is on having a first-class television production, comparable to top sports television. TV Asia will do a 9 cameras production, with slow motion replays,graphics, commentary etc that will pull cricket several rungs up the ladder closer to other American sports.
Accordingly it was decided to keep the total number of teams at 28, and not have a Special Guest team this year.(Our record is 3 wins to 2 losses against the Special Guests).
The Draft of the Teams into Conferences will be recorded for TV on Sunday Feb 26 at 12 noon at TV Asia Studios, Edison,NJ. To be broadcast Monday,time to be announced.
Bios must be submitted by Feb 26 and Rosters by March 3, to Lloyd Jodah, American College Cricket founder & President.
NOTE: No one, or company is authorised to solicit your teams' equipment or travel business in our name. If anyone does,in that manner, or for any questions, contact Lloyd.