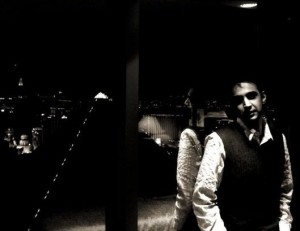 Early in the year, when USC President Max Nikias took a delegation to India, he also took a USC Cricket jersey, which he presented to Tata Group Chairman Ratan Tata who was delighted to learn there was cricket at USC. Ratan Tata is also on the Board of Trustees of the University of Southern California.
As President of  Trojans Cricket, Tarun Sandhu saw the benefit of joining American College Cricket, which immediately paid off when they participated in the 2010 nationals – the school raised the status of the club !
The Trojans performed well at the 2011 American College Cricket Spring Break Championship,the 6 foot 6 inches Sandhu providing a thrilling sight as their opening bowler, with his smooth run up. He is also one of  USC's top batsmen.  
Then their World Cup viewing party made the Los Angeles Times, which interviewed Tarun !
In 2011 Tarun once again organized the 2nd Annual USC Trojans vs UCLA Bruins cricket match at Cromwell Track and Field Stadium. This is a key matchup as it brings the historic Trojans/Bruins rivalry to cricket, on the USC campus ! Despite a spirited fight by the Bruins USC won again.
When plans to use Woodley were blocked by the negative "guardians" of Woodley – leaving the fields for soccer and football players, the West Coast Championship was shifted to the USC soccer field through Arvin Varma, American College Cricket Advisory Board member and USC Assistant Director of Rec Sports.
The USC soccer field provided glorious cricket, as the flat outfield with its billiard-like surface was ideal for stroke-playing. It also confirmed American College Cricket President Lloyd Jodah's vision of playing cricket on the soccer fields of colleges. TV Asia did a report.  
The culmination of the year for Tarun Sandhu and the USC Trojans Cricket club was when the University of Southern California's Global Promotion video was released, the 8 minute video included an interview with Tarun about USC Cricket – the only sport in the video !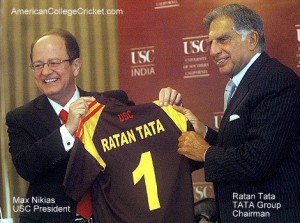 Tarun has also produced videos about USC's American College Cricket's matches..Last year Tarun was a College Player of the Year, as well as selected to the All-American team. He is now a Dentist, and still actively involved with the club. 
Tarun is fortunate to have club founder Arvin Varma on the staff of USC , and Tarun Tyagi as team captain,providing invaluable support but there's no question of Tarun's excellent leadership as Club President.
 by Lloyd Jodah