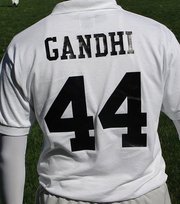 Anup Gandhi has been President of the University of Iowa Hawkeyes Cricket Club these past 2 years partly because its difficult to find successors to take on the responsiblities of running a club in a university. It takes leadership skills and sometimes we have no clue what we can do, until we actually do it.
Beginning the club in 2009 Gandhi organised intra mural tournaments and clinics, enlarging the club's member base and even getting into the local TV news. He then made presentations to the Depts of Student Affairs and Recreation for a cricket field. Identifying an appropriate area, Gandhi got his school to follow through and make a pitch.
 The Hawkeyes then became one of the few American or Canadian Universities to have its own on campus cricket field. Gandhi continues to look for a solution to the issue of the grass not being the optimum lenght for cricket.
When I needed information on pitch-building to assist the Aggies, Anup readily assisted.
Gandhi also strives to bring students new to the game into the club, and has been one of the main mentors of 2011 John Bart King Award winner, Darren Stortz,whose introduction to cricket was at a Hawkeyes cricket club clinic in Dec 2009. Gandhi is currently working on Stortz's bowling.
For last March's national Championship, Anup suffered a wrist injury which prevented him from playing – losing their top all rounder was a big setback for the Hawkeyes but he ensured they made the trip.
Then for the first Great Plains regional, Anup volunteered to host and organise the tournament, which the Hawkeyes did (won by Iowa State). Next Anup is looking forward to the trip to Florida to play in the 2012 American College Cricket Spring Break Championship !
by Lloyd Jodah