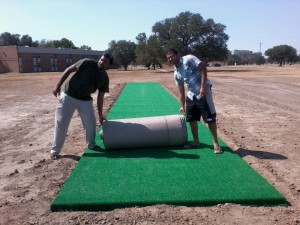 At the 2011 Spring Break Championship American College Cricket President Lloyd Jodah spoke with many of the teams and gave them a blueprint on how to seek more resources from their schools, including a cricket field.
Pradeep Gudlur and the Texas A & M Aggies Cricket Club listened. Disappointed as they were at not advancing to the Semis despite performing well, Pradeep and the Aggies club channeled that emotion into a presentation to the appropriate Dept,University Apts, at Texas A & M to get the club a cricket field !
The Presentation included reference to the Aggies', especially their MVP Ochert Greyvenstein, outstaanding performance at the Spring Break nationals in March.
Once the club got agreement, the wheels were set in motion to raise funds for acquiring and laying the pitch. Pradeep asked Lloyd for information on how to get the pitch, what type etc.- which was provided by Anup Gandhi, President of the University of Iowa Hawkeyes Cricket Club.
Pradeep downplays his role saying, "because I was a senior I had a lot of contacts which we were able to draw on for assistance but I really didn't do much ."
It takes a lot of skills and work to accomplish a project like this successfully, and certainly others in the club did their part but as Club President,Pradeep Gudlur exemplifies the best of the kind of leadership we see a lot in American College Cricket, with extraordinary results !
The cost of the project was about $ 8,000 and work has been completed. The ground will be ready for the first American College Cricket South West regional on Jan 28 & 29th.
TV Asia is planning to televise the Semis and Finals, and Pradeep is playing a major role is working out the logistics of the tournament and the TV production.
Which  will be the next College to get its own field ?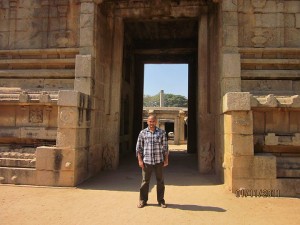 by Lloyd Jodah
Photo (at right): Pradeep on a trip back to India
Each of the nearly 50 College Clubs that are members of American College Cricket has a President, as well as other executives such as a Secretary and Treasurer,sometimes a Vice-President.
Without the Club President and Executive (or E-Board) there would be no teams to play Championships, no College Players of the Year !
Students take on these responsibilites for various reasons, and benefit by gaining valuable leadership,people and organising skills that will help them tremendously in their future careers and lives – and their work benefits us all, and the sport that has given us so much -cricket.
The work required to get your teams to Florida for the Spring Break Championship is tremendous and ALL the Club Presidents and E-Board deserve recognition for their hard work. We are highlighting some of the best of 2011