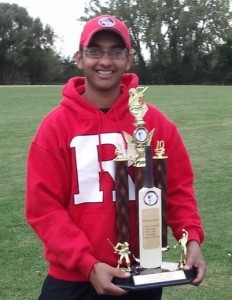 Each of the nearly 50 College Clubs that are members of American College Cricket has a President, as well as other executives such as a Secretary and Treasurer,sometimes a Vice-President.
Without the Club President and Executive (or E-Board) there would be no teams to play Championships, no College Players of the Year !
Students take on these responsibilites for various reasons, and benefit by gaining valuable leadership,people and organising skills that will help them tremendously in their future careers and lives – and their work benefits us all, and the sport that has given us so much -cricket.
The work required to get your teams to Florida for the Spring Break Championship is tremendous and ALL the Club Presidents and E-Board deserve recognition for their hard work. We are highlighting some of the best of 2011.
In early 2009 when I was trying to pull together teams to play in the first ever college nationals, I was in contact with some cricket players at Rutgers who loved the idea of particpating, however for unclear reasons were prevented from playing.
The Rutgers Cricket Club did enter the 2010 American College Cricket Spring Break Championship, and Hardik Jogani became the President of the Club that March.  Hardik began to work closely with American College Cricket to raise the profile of Rutgers Cricket. -and Hardik himself was honored with a feature on the Home Page of the Rutgers University website.
With the talented Nisarg Choksi as Captain, Rutgers won the first Northeast regional and caught the attention of nearby TV Asia (which has its HQ in Edison ,NJ). TV Asia then did a piece on the Club as they practised for the 2011 American College Cricket Spring Break Championship.
Having looked around the cricket scene in America, TV Asia management had seen American College Cricket as a movement that they wanted to be involved with. The interaction with Jogani,Choksi and the Rutgers players confirmed TV Asia's positive view of American College Cricket and they reached out to Lloyd Jodah, American College Cricket President – a communication facilitated by Hardik.
TV Asia is now the Exclusive Media Partner of American College Cricket. The two organisations recently televised the first ever domestic cricket in USA & Canada and are set to do over 100 matches in the next 5 years.
In addition American College Cricket news, such as the Rankings, College Cricket Players of the Year will be reported on an on going basis by TV Asia. Other projects are also in the works.
Largely because of Hardik Jogani's leadership, Rutgers will forever be the first domestic team (along with NYU-Polytechnic), college or otherwise, to play a cricket match in the USA & Canada on TV ! 
by Lloyd Jodah