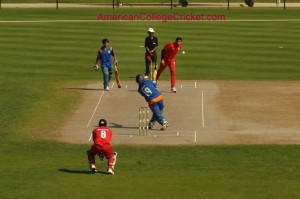 A cricket team was started at the University of Pennsylvania back in 1842 – one of the first college sports team of any kind in the US.
However the modern guys have not been content to rest on past glories, they joined American College Cricket and have taken part in the 2010 and 2011 national Championships. 
UPenn came to the 2010 Spring Break Championship but did not do well. They returned for the 2011 Championship, played as a solid unit that  surprised many, and made it to the final four, where they gave eventual Champions George Mason a tough time !
Their 2010 performance had given no indication of how well they would do in 2011. One constant for both years was Gavish Sharma – the inspirational Tim Tebow of the team !
As a Wharton Business School MBA student Gavish was the elder stateman to a bunch of undergrads. He was their prime advocate for funding and school support. On the field he motivated the team, and his play was instrumental in 3 of their 4 victories.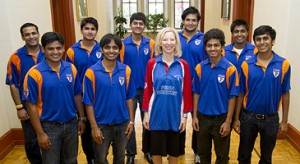 Against University of Iowa he took 4 wickets for 13 runs,and got a run out to bundle the Hawkeyes out for 79. Opener Sharma then helped chased the total down with a quickfire 17 and UPenn earned 3 valuable Bonus Points !
Against Texas Tech Gavish took 4 for 20, and smashed 35 before getting run out in the winning chase.
Against Thunderbird Gavish batted throughout the innings for 50*, then took 2 wickets for 7 runs as Saksham Karwal took 5 for 12 to defeat the T-Birds.
Working with others like Ali Raza Khan,Saksham Karwal and Roshan Rai, Gavish ensured that Penn Cricket is among the best funded for the national Championship each year ! He has helped smooth the transition in club leadership each year also.
The fact that the Penn Cricket team hoisted Sharma in the air when they made the Semis speaks volumes….actually they tried to, but Gavish has been to a few Indian buffets.
Gavish and the UPenn team presented American College Cricket President Lloyd Jodah with a team jersey, which was in turn presented to the National Baseball Hall of Fame to commemorate the historic Cricket Exhibition, "Swinging Away – how cricket and baseball connect."
After the 2011 Championship the UPenn team were interviewed for a significant article in the Times of India.
UPenn's President Dr. Amy Gutmann honored the team by meeting with them, and a 12 photo tribute to them on her Office of the President web page.
After graduating, Gavish called to let me know how much he wanted to continue being a part of American College Cricket, and asked how he could remain involved – exactly the kind of alumni we want !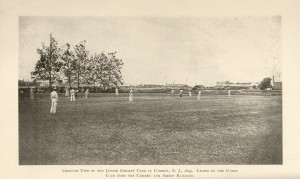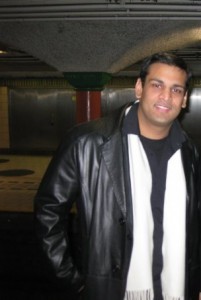 by Lloyd Jodah
Photos: Gavish batting vs Texas Tech at the Cricket Stadium at 2011 Nationals
2. Dr Gutmann with members of the Penn Cricket team  (Courtesy UPenn)
3. UPenn's first cricket field back in 1843  (time for a new one ?)  (Courtesy UPenn Archives)
4. Gavish Sharma