In the 3rd TV game in American and Canadian history, Toronto's Ryerson University took on NYU-Polytechnic.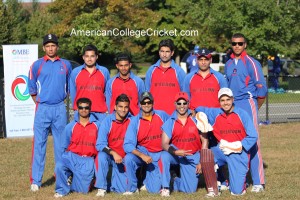 The two teams faced off on TV Asia on Sat Nov 12, in the Finals of the American College Cricket Northeast Championship, and an opportunity to zoom up the rankings, maybe even to number 1 !  
Ryerson University's pace attack is 5 deep, and tall –  Warren Rajroop is 6'5′, Rayan Pathan 6'4′, Siufian Chaudhary 6'2′, Azad Zaidi,6′  with Harsh Desai -bouncers come easy ! 
NYU-Polytechnic atttack boast America's fastest, Adrian Gordon but it was clear that Ryerson held the advantage in the bowling dept.  
 Batting first the NYU-Polytechnic batsmen relied on extras to move the score along, and at the end of the Power Play they had just 17 runs for 2 wickets.  
However hard hitting strokeplayer Adrian Gordon had just come to the wicket, and he delighted with some glorious cuts and hooks, getting 4 twos on the slow outfield, before stroking 3 fours. 
In March Gordon smashed 145* in the national championship, so the Ryerson team had to be getting worried when Gordon came back too casually for aa 2nd run, and was run out ! 
Gordon was out at 56, and only Somesh Batra, 12 reached double figures as the NYU-Poly team crumbled. 
Once again Harsh Desai took crucial wickets, 2 for 17 off 3 overs. Hasan Mirza, the Ryerson captain, 2 for 15 in 3 overs and Azad Zaidi 3 for 6 in 1.3 overs.  
Hasan Zaidi then opened the batting with Farhan Khan,10 and played a solid innings before opening up,striking 2 sixes and 1 four in 30*. Coming at 3, Rahat smashed 4 sixes in his 33* as the two put on an unbeaten partnership of 68 runs to win the game and the title for Ryerson ! 
A mistake was made in declaring Azad Zaidi the MVP, as it was his brother, Hasan who made 30*. The MVP was Harsh Desai, who once again took crucial wickets to swing the game Ryerson's way.
Ryerson won in such a convincing manner that they have immediately vaulted themselves to be among the favorites to win the Chanderpaul Trophy at next March's American College Cricket Spring Break Championship. 
Play by play commentary for the game was done by Lloyd Jodah, and filming by Riverview Studios headed by Jim Parker, for TV Asia. 
TV Asia is TV Asia is a US based Channel available on DISH Network ,on major Cable systems such as Cablevision, Time Warner, Comcast Xfinity, Cox, Verizon FIOS and A T & T uverse in the USA, and on Rogers and Bell Canada in Canada. Don't have TV Asia ?
Call 1800 652 2253
www.TVAsiaUSA.com
TV Asia's distribution partners International Media Distributors has a program for distribution in Colleges
– tell the University Relations Dept in your colleges. Educational Partners:
http://www.imediadistribution.com/resources
All photos by Sal . College Cricketers & Clubs, & College Media are authorised to use photos. CLICK ON PHOTO TO SEE WHOLE PICTURE