Led by faculty advisor and founder Arvin Varma,and Club President Tarun Sandhu, being part of American College Cricket has raised the profile of the University of Southern Caliifornia (USC Trojans) Cricket Club. In turn the club is a pillar of American College Cricket on the West Coast.
After participation in the 2010 nationals, Trojans Cricket was elevated in status at the school. In the fall, it won the first match vs rivals UCLA, and took the American College Cricket West Coast Championship.
In Feb 2011 USC President Max Nikias presented a USC Cricket jersey to Tata Group Chairman Ratan Tata in India.
Now USC Trojans Cricket is the only sport prominently featured – at minute 2.50 – in the latest USC Global Promotional video !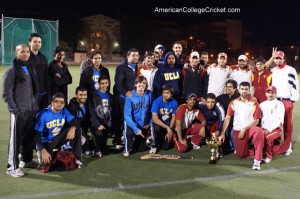 The USC and UCLA teams at Cromwell Stadium,after the inaugural game in the USC/UCLA cricket rivalry,for the American College Cricket Sentance-Varma Trophy