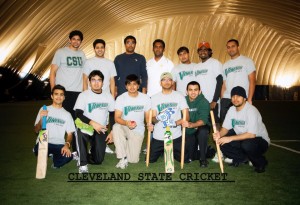 It's autumn, the leaves are evolving into dazzling hues, the winds blow a bit chilly and in the Heartland of America college cricket teams take the field to battle ! 
The old custom of cricket sweaters, which originated in the English weather, achieve a new relevance in American College Cricket season – only now it may be hoodies ! 
It may be in the 50's some days, but the 50's the batsman is focused on is his own half century of runs ! 
Saturday, Oct 1st, gameday, there will be matches in Ohio and Iowa, with many Big 10 colleges competing  – with national rankings, and 2 Championships, the Midwest and Great Plains, at stake ! 
The Buckeyes open their campaign against newcomer University of Buffalo, hoping to keep the Gordon Gee Trophy at Ohio State. Defending Champion Purdue want to win here to regain their top 10 ranking – which they lost after not making it to the nationals. 
American College Cricket pioneer school Carnegie Mellon has a tough schedule taking on Purdue and Penn State. The Nittany Lions have some new blood eager to take the Gordon Gee Trophy back to Paterno country – Joe Paterno has been coaching there so long he might actually have been around when Philadelphia had one of the strongest cricket teams in the world (in the 1880's & 18890's).
 New team Iowa State, will face the Hawkeyes and the Minnesota Gophers. The Gophers have been getting stronger each since beginning in 2010.   
The guys from Buffalo, and Iowa State are dark horses, whilst University of Iowa showed flashes of strength at the 2011 American College Cricket Spring Break Championship. 
Cleveland State Vikings had their first tournament at the nationals, and have been practising hard since for this regional. 
Ohio State University President Gordon Gee (who is also a member of the American College Cricket Advisory Board) is expected to attend the finals on Sunday. 
by Lloyd Jodah
Oct 1,Saturday : Minnesota vs Iowa State,Cleveland State vs Buffalo,Carnegie vs Penn State, Iowa vs Iowa State, Purdue vs Carnegie, Ohio State vs Buffalo