The first international sporting event, in 1844, was a cricket match between USA and Canada, marking the first time that 2 sovereign entities (countries) did battle on a playing field, not a battle field.
–
Of course since cricket in these parts operates under a cloak of invisibility, not many know or care about this accomplishment.
Before founding American College Cricket, I began a campaign in 2008 to revive this historic series between USA and Canada.
Then last year announced a USA vs Canada College Series to be played annually.
Cricket Canada, taking a cue from American College Cricket, makes a definitive move to revive this remarkable rivalry by inviting the USA Cricket Association to send a team to play a two day game against Canada at the Ethad Summer Festival.
There will be a 20/20 tournament over the first 4 days between Canada, USA, Trinidad & Tobago and Afghanistan, followed by the two day game between USA and Canada.
Of course inevitable criticism will happen, that this was done at short notice. However it's great that it is being done now, and will hopefully be an annual event.
ANDY MOHAMMED 
Andy Mohammed is made his debut for USA last year, but a hand injury kept him out of the team since. Andy played for a NY Under 23 team three times against touring 2009 American College Cricket Champions Montgomery College. 
In the 2010 Under 19 World Cup Andy stood up to the blistering pace of the Australians' Alistair McDermott and Josh Hazlewood to make a fine 70. The left hander is one of the USA's best.
–
AKEEM DODSON
Dodson was York College's top batsman and wicketkeeper when the college reached the Finals of the 2010 American College Cricket Spring Break Championship. Whilst the school did not make it to the 2010 nationals, Dodson is in the forefront of getting a team ready for 2012.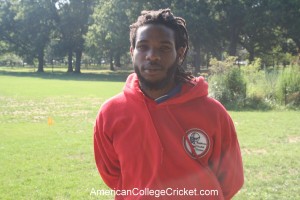 CHARAN "RUBAL" SINGH 
Making his debut is 20 year old Charan "Rubal" Singh (Radford),an attacking opening batsman who is one of the best fielders in the USA. Marketing major Rubal said, "I actually take fielding as a seriously as I take my batting. I believe if you score 50 runs and give away 20 runs by your fielding then those 50 runs are not beneficial at all to your team."
As a 14 year old Charan Singh played for Haryana Under 15, before moving to the USA. He is symptomatic of the real talent that's often missed – he was never selected for the USA Under 19 teams. Charan seriously considered choosing Montgomery College because of its successful cricket team.
ASAD GHOUS
21 year old Mohammed Asad Ghous has been eager to play college cricket, and recently transferred to Rutgers University – the 2010 American College Cricket Northeast Championship. Ghous recently spent 1 month training in England and has played 10 games for USA, and is looking forward to playing for Rutgers in the future.
The Canadian team has been playing lots of cricket, at home and abroad and will probably come in as favorites to win this game. The team has not yet been named but its likely 2010 American College Cricket Champions York University will supply two of Canada's hopes for the future : Khushroo Wadia and Rustam Bhatti.
KHUSHROO WADIA
Khushroo recently blasted scores of 40, 56 and 75* playing for Canada in the recently concluded ICC Americas T20 tournament, and ensured they won that tournament. He has been the top batsman in American College Cricket in 2010 & 2011, scoring six 50's in 10 innings. Wadia was instrumental in York University winning the Chanderpaul Trophy at the 2010 American College Cricket Championship.
RUSTAM BHATTI
Wicket-keeper Rustam Bhatti scored a century in the 2011 American College Cricket Spring Break Championship. Before that he captained Canada U 19s at the 2010 Under 19 World Cup and has played for Canada 10 times, including 3 First Class matches and an ODI.
Cricket Canada Vice President Ravin Moorthy,who is also a member of the American College Cricket Advisory Board said:
"We are very pleased to host the 2nd annual Summer Festival. This year thanks to Etihad and Teacher's, our partners, we are able to make it a four team event and give some of top players in both the USA and Canada a chance to compete with one of the best T20 sides in the world, Trinidad and Tobago." 
–
Rustam Bhatti (York University) at the 2011 American College Cricket Spring Break Championship