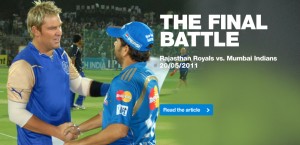 American College Cricket 2011 MVP Adrian Gordon (NYU-Poly) is in India,  in camp with the IPL's Rajasthan Royals, sponsored by Big League USA. Gordon, who is possibly the fastest bowler in the USA, also scored a magnificent 145* on the large Florida fields at the 2011 American College Cricket Spring Break Championship last March.
Enjoying his time with the Rajasthan Royals, Adrian reports from India (photos later) :
good day today, bowled real fast at the practice, with the boundaries close i mean very close lol,
also got a picture with every one on the team, going to try to get one with Sachin and the Mumbai players tomorrow…also the coach will work with me individually on sunday and monday so thats a good thing.
the hotel here is pretty nice also…got all the kits lol
Hung out with Kieron Pollard and his little son,playing some reggae music.
Took a walk downtown with Johan Botha and Ross Taylor
Now off to the Rajasthan Royals vs Mumbai Indians game……hope I get to meet Sachin !
Watch out might catch me on TV tonite !
–
Also in India, and practising with the Mumbai Indians, is another American College Cricket player, USA Under 19 and Rutgers star Mital Patel.