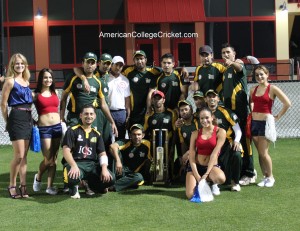 The first time Hashim Khan and I (Lloyd Jodah) spoke, was probably through Facebook in early 2009 , when I was trying to create teams for the first American College Cricket Spring Break Championship – I had announced a national Championship in Dec 2008, but there were no real college teams to play lol !
Hashim didn't get a team together for March 2009, but he came to New York to play on a College All Star team against the first national Champions, Montgomery College. Then together we worked on getting a team together for the 2010 American College Cricket Spring Break Championship. Like all of the college teams, a collection of guys who had not played together before, the Mason team played below its obvious potential. Still it was a last ditch effort by Montgomery College that kept George Mason out of the final four, but Hashim never complained about losing the opportunity by 1 Bonus point.
In countless phone conversations between Hashim & I throughout the year,we discussed sponsorship, facilties on campus for cricket and establishment of a formal club. Hashim's support and loyalty to American College Cricket and his passion for the game is unquestionable, even as he enjoys the night life of South Beach.
So its no surprise that he managed to finally wield the talented players of George Mason University into a team of national Champions ! Like Champions in every sport, George Mason went through a tough rival, Montgomery, to the Championship and win the Chanderpaul Trophy !
Now as Hashim Khan is about to become an American citizen – he is also captain of a national Champion team, and is a true American College Cricketer.
Chanderpaul Trophy designed by American College Cricket & Cricketzone's Ravi Etwaroo.