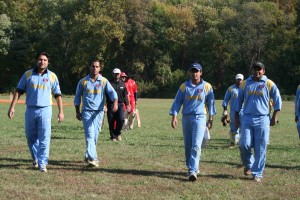 UMBC's Gurnish Singh with Shanae

Maryland in the morning,a bit of dew still around, as the first games of the American College Cricket Mid Atlantic Championship began.
The first game at Metro field featured Penn State vs University of Maryland Baltimore County (UMBC).The outfield at Metro was rough, and would prove difficult to score on.
 UMBC had built up a reputation, winning the WMCB Twenty20 title 2 years in a row. The heavy air and moist wicket favored the UMBC bowlers who seemed eager to get back to breakfast, dismissing the Penn State Nitany Lions batsmen for just 73 runs.UMBC took just 9.4 overs to win, losing only 3 wickets. Game MVP was Raghav Bharadwarj who scored 63* and took 4 wickets !
THE ROAD GOES THRU UMBC
Early Sunday outside the nation's capital, as the rising sun burned golden in the morning sky, UMBC in their blues, and North Carolina State in red took to the field, NCSU batting first. Runs were hard to come by, as all of Maryland's bowlers, Sumeet Chordiya, Raghav Bharadwarj, Austin Aluvathingal,Gurnish Singh and Faisal Maniar  kept it tight. Only Nikhil Talpallikar got the ball away, driving over midwicket for 4, and off driving for 6. Talipallikar scored 28 before being bowled by Aluvathingal. A middle order flurry by Ankit Mehta 18* and Sethu Gopal 16* took the Wolfpack to 113 for 7 at the end of their 20 overs. Watching, Shanae Strachan (Ms Teen Bhamas 2008) was thrilled,"This is exciting ! These 2 teams are great !" 
UMBC smelled blood and closed in for the kill sending 2 of their best batsmen out to open Raghav Bharadwarj and Eraj Abidi. But Gopal swung one in from leg, and surprised Abidi by bowling him for a first ball duck ! Bharadwarj had flown in from Portland,Oregon for the Championship, having just graduated and moved to the West Coast (the eligibilty rules allow 2010 grads to play). 
Gopal took 2 more quick wickets, Malegonkar 1, and UMBC was 26 for 4. Anand Patel 30 and Gurnish Singh 14 stopped the batting slide and for a while it looked as if UMBC would pull off the win ! Bhavani Hegde and Suhas Kumar struck back though with 2 wickets each to finish off UMBC for 99 runs in 19.2 overs ! Hiren Patel NCSU was game MVP.