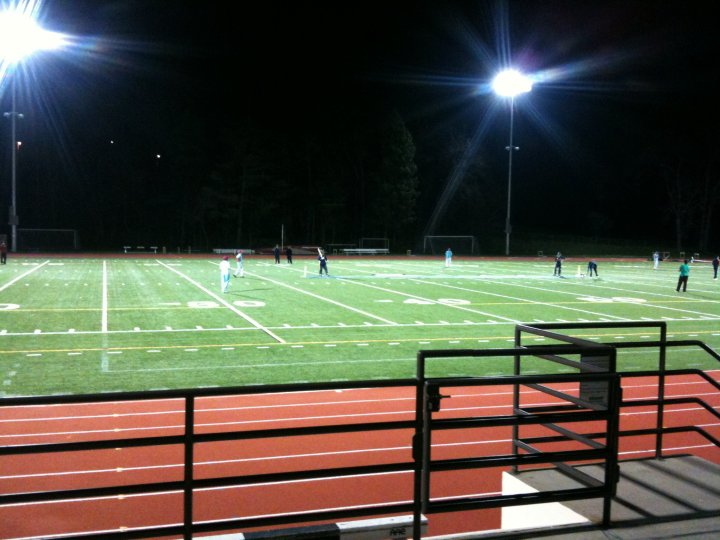 Roadtrip Blog by Hugo Scheckter (GWU) -who resigned today as President of the GWO Cricket Club, to spend more time with his family (?).
We met at 6pm on Friday and loaded our bags into our two cars for the 7 hour drive to Wooster, Ohio. The minivan was tightly packed with equipment, players and their luggage, and so it was fairly cramped for the ride there. After stopping a few times for food and gas, we arrived at about 2am after a scare where the iPhone, which was also our GPS, had about 6% battery left with 2 hours to go. (Editor's note: these are all very smart guys)  
We woke up early the next day, and headed to Wooster's stunning campus. We warmed up in their quad throughout early on, and started to play them in the middle of their campus. There was a decent crowd, with a lot of people asking questions about how the game was played, and there were probably 20 people there at all times! 
Our batting was solid, with experienced batsmen Ishaan Prakash and Amr Hassan getting 32 and 30 respectively, before the 10th batsman Ankit Sheth came in and got a 27 not out. This was on a day where storms were predicted, and strong winds and light rain, as well as a makeshift wicket hampered the playing conditions. 
The bowling was all about the Hassan family, as both Captain Amr and Freshman Zain both picked up 3 wickets each, although Zain let 5 less runs go in his spell with 19. Victor Williams, Ishaan Prakash and Vice Captain Jahan Tahiliiani picked up a wicket each. 
The second game against Carnegie Mellon was a different affair. It was GW Cricket's second game of the day, and also our first under lights, in the impressive but freezing John P. Papp Football Stadium. 
GW played very well, and was undone by a single CMU batsman, who was clearly a very gifted player, who managed to score over 100 runs. They matched our target fairly quickly, but still a good team performance . 
The Sunday game vs Wooster was on a lovely warm day. The players warmed up in groups, some doing some fielding practice and some deciding to play some touch football on a fantastic turf, despite none of us really being sure of the rules. I came in for the injured Ankit Sheth to make my leather ball debut for GW Cricket, which was quite an occasion. I was put at fine leg to try and limit my handling of the ball. 
Ishaan Prakash broke the club record with a 97 while batting, a record that had only stood for 15 hours since Amr Hassan got 82 the night before vs CMU. We ended up with 198 as a target for them to reach, and despite a fast outfield we managed to hold out and win the game, which definitely was a huge morale boost for the team on the way home. 
The trip home was fairly uneventful, although we did pass two Amish Wagons just outside Wooster, which was a new experience for all of us! I also took a detour which I thought was to a gas station off the highway, but instead was a very creepy forest in Maryland, which we got lost in for 30 minutes. All part of a great trip! 
Wooster were great hosts, and we want to thank Maaz for organizing it all. We look forward to seeing them at the Championships next year, and we hope to be able to head back to Wooster soon, or host them in DC sometime!