!!!!!!!!!2010 American College Cricket Championship!!!!!!!!!!!
By: Mohammad Suleman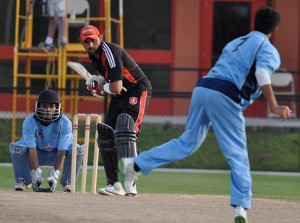 Brought happiness and glory for young York Cricket Club!  It was established by me (Mohammad Suleman), less than 3 months ago. In the first week I had 4 members: Shamas Rehman, Nadeem Akber, Navdeep Saini & Bilal Shahid. (Special thanks!). As a regular Facebook member, I read about the 2009 Championship, so I had this strong feeling that with such a diverse college as our (York College) NY. I might find good players and wanted to compete in this year's Championship!
First, I got in touch with Mr. Niño who then referred me to Mr. Lloyd Jodah (The President of American College Cricket), who  helped me start my club. He came and met with me and told me what to do.
  The NY Daily News was going to do a story about Mr Jodah, but he told them to write an article about the York College Cricket Club and we were interviewed and photographed for the story.
 As we moved along, Mr Jodah helped us setup practice sessions for our club members at an indoor place in Ozone Park , N.Y. Due to cold and Icy weather we started going regularly to the indoor cricket place to prepare for the Championship!
I asked many classmates to join my team but due to their studies and work, they weren't not able to play with us. I single-handedly filled out the paper work to register our club, put up poster(flyers) as Mr Jodah suggested, registered for the Championship, booked the flights and hotel for all of my club members and held practice sessions at different times to help my fellow club members get proper practice and motivate them for the National Championship!
I even made a mistake and booked the Flights for the wrong day, but Mr Jodah helped me out with that. Later, key players like Yaseen khan and Hugo D'Oliviera came aboard in the final week before we left for Florida.
 At the 2010 American College Cricket Spring Break Championship
As we moved on in the Championship, I knew the competition was far more challenging than any of us would've imagined. Our Club was like a new born baby. I barely knew half of my teammates. Anyway, our group had four other teams like UPenn, NYU, Rutgers & BU. They were all very competitive and came strong with bowling and batting side.
First up we faced UPenn, Akeem's unbeaten 62 and good bowling led York to a comfortable win. Next morning we were ready to face NYU as Akeem again shattered many dreams of NYU players and faced nearly 90mph brutal pace of Adrian Gordon and scored all over the ground. York's pacers continued to impress me as they dismissed NYU's top order and bowled them out for 83.
 After a comfortable win over NYU, team York continued to keep up the fight against heat and good bowling attack by Rutgers. At the end of the day, York lost by a few runs. the battle toward glory wasn't over yet, to ensure our entry into the semi-final, we had to win against Boston University and hope that NYU and Rutgers lose their respective games.
 Finally, things went our way , we won against Boston U, Rutgers lost to UPenn and NYU lost to Rutgers.  The road toward victory was so sweet that we couldn't sleep the night before the semi-final. Early next morning, we took a ride toward the stadium to watch the first Semi-final. This was York U vs USF.
 It was a beautiful morning and we were on our toes waiting for our game against UMBC at 1pm.In fact it was one of the most beautiful days in the world, we were going to play in the Semi Finals of the National Championship ,  at the Cricket Stadium ! Who would have thought this 3 months ago !? 
 It was an amazing experience to play while people from all over the world were watching the live broadcast on AmericanCollegeCricket.com, ICC.org,CricketCanada.org and many other sites. With the young and aggressive side of York College, we continued the on-slaught and defeated UMBC in the semi-final. After a short break, we were into the Finals. The Players had water and we were back into the field, we wanted to win.
Throughout the tournament, our strategy with batting and bowling didn't change much.
In conclusion, I'm proud of our achievement in such a short time and want to thank all the people who participated in the 2010 American College Championship! And made enjoyable for all cricket players and fans.
 Special thanks to All my club members who took time off from work and study and became part of York College Cricket Team and to Mr Lloyd and Mr Nino who made it possible to bring together such a great event and shared happiness.
In the near future, our club will grow large and we'll hope to bring back the Chanderpaul Trophy back to New York!