What a start Drexel University cricket had in American College Cricket ! Founded by Kabir Manocha Drexel Dragons played their first Mid Atlantic Championship in Fall 2013, wearing uniforms loaned by Lloyd, as to their surprise they were in the Semis televised by TV Asia !.Next Fall, dynamically led by Maaez Veqar they lost the Mid Atlantic finals in the last over to a strong UMBC.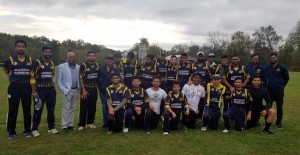 Their team for the 2015 National Championship with Veqar, included Ravi Singh, Hayat Khan, Chandan Naik, Kush Navinchandra, Anshul Sanghavi, Kshitij Jain, Faizan Zaidi, Aakarsh Malhotra, Pawan Bhambhawani, Saurin Sethia, Kabir Manocha, Prahlad Singh, Harshil Dokania, Utkarsh Gupta, Kshitij Jain, Devvrat Tibrewal and Sid Rao – who turned in a legendary performance !
Due to major mess ups at Brian Piccolo fields where the pitch covers had holes, overnight rain resulted in muddy, unplayable conditions won 2 separate days bizarrely ! This resulted, on 2 separate days, in scrambling to find alternate fields, rearrange matches, move teams etc. The result was Drexel had to play a Quarter Final match vs a strong UF team, then a Semi Final against the defending Champion USF then the Finals vs UT Dallas – 3 matches in one day ! UT Dallas won the Championship but Drexel's performances were historical and they were awarded the 2015 "Spirit of Cricket Award" for the extraordinary way they handled the situation.
Drexel Dragons finished an incredible 2015 by winning the Mid Atlantic C'ship but lost in the Semis of 2016 Nationals to eventual Champion USF. Captain Maaez Veqar went to sign for a Pakistan pro team, PIA, Hayat Khan got more involved with his Med School studies, & other players graduated and Drexel lost at the 2016 Mid Atlantic, then did not do well at 2017 Nationals. However like many teams from the North East & Mid West they battled a major snowstorm that shut down airports & affected travel, yet they made it to Florida, demonstrating the love of American College Cricket players for the game. NO player from any team missed the Championship despite multiple flight cancellations etc.
Now in 2017 led by Devvrat Tibrewal, supported by Club Execs Harshil Patel, Sneh Patel,Anant Tantia, Faraz Zaidi, Roshni Chasmawala & alum Manocha, the return of batsman Aakarsh Malhotra from coop study abroad, with team members that are collectively the best in American College Cricket on Facebook, Drexel Dragon is creating a huge buzz and is rising again, winning the 2017 Mid Atlantic Championship, in front of other students who came to support them.
Drexel Dragons' magnanimous and sportsmanlike approach to the game, on and off the field, playing hard and understanding cricket can not just be played, it has to be promoted to grow or even survive, make the whole team MVPs and a team to be emulated. The old saying goes, if a tree falls in the forest & no one hears it, did it fall ? Well if a business, cause or endeavor is not claiming space on Facebook & other social media, who knows or cares about it ?
Drexel is bound to be one of our most watched teams when we Stream matches worldwide from the 2018 National Championship.