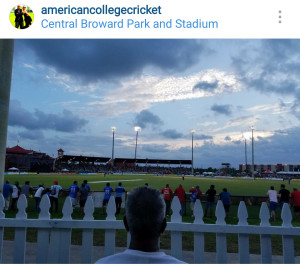 India will play the T20 World Cup Champion West Indies on Aug 27 and 28 in Florida at the Central Broward Regional Park & Stadium. Fans are expected to fly & drive from all parts of the USA & Canada for the Event.
American College Cricket members have been contact Lloyd Jodah, American College Cricket Founder & President, since July 31 when he confirmed the dates.
Tickets for India vs WI in Florida- will be on sale Monday on a site to be announced….Lowest price will be $100 per day for Bleachers etc….With our Code "ACCIndia" you can get $20 off the Party Stand price of $175 per day – free food, drinks included . Use this code only for the Party Stand.
The Stadium is famous among ACC players because, since 2009, it has been a destination for them, like Lord's which they love getting the opportunity to play in such a world class facility. The American College Cricket National Championship has been played here since March 2009. The first web streams of cricket in USA were done here by american College Cricket in 2009 & 2010, then TV from 2012 and in March 2014 the National Championship was broadcast on ESPN from here – the 1st time the sports giant had carried USA cricket, and the first time it had broadcast non-International cricket.