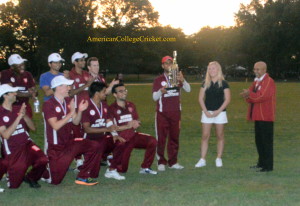 Harvard continued their tremendous run, since the Harvard Cricket Club was re-started by Ibrahim Khan in 2012 (Harvard cricket team was officially begun in 1858). The team began playing, under lights on campus and hosted Home & Away matches, leading other college teams in the North East to do the same.
Harvard then went on to win the Home & Away season in 2013 and now they have finally defeated arch-rival University of Pennsylvania to win the Colin Michael Jodah Trophy and the Ivy League Championship. This rivalry goes back over 150 years in cricket, as Penn's team was started in 1842.
New Captain of Harvard Cricket, Manik Kuchroo, led from the front with the bat & ball as hundreds of spectators watched, and music blared, at Baisley Pond Park South in Queens. Construction at the Philadelphia Cricket Club prevented the use of that venue but the American College Cricket Ivy League Championship will return to the PCC in 2015, or be played at Harvard on their new cricket field.
Anja Catrine presented the Colin Michael Jodah Trophy to the Champion, Harvard.
RESULTS
http://americancollegecricket.com/american-college-cricket-scores/
PHOTOS
https://www.facebook.com/media/set/?set=a.10152434470674331.1073741847.264550834330&type=3