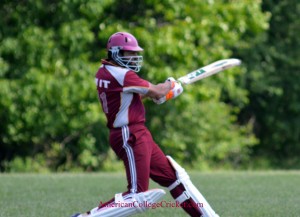 Memorial Day Weekend saw what might be the final American College Cricket Home & Away matches before the Summer Break. The season will continue in late August when colleges resume for the Fall Semester.
In about 1 month available before Finals Exams, many clubs tried to fit in Home & Away matches but it would have been great to see more. 2013 Home & Away Champion Harvard got off to a great start, but it was new club MIT led by Koustuban Ravi that determinedly strove for the lead, and at break they were well ahead of # 2 Boston University.
–
MIT Engineers vs DARTMOUTH Big Green
Sat May 24
–
MIT racked up a mammoth 262 for 6 off 20 overs (120 balls). Priyank Kumar just missed his first American College Cricket century cracking 99 in 45 balls with 8 fours & 8 sixes ! Strongly built MIT Captain Koustuban Ravi made 66 with 3 fours and 7 sixes.
Even the Dartmouth top bowler wanted to be anonymous, and on the scorecard he's just "R" taking 2 wickets for 45 runs.
–
In response Dartmouth was under pressure and the MIT bowlers did the rest, getting Big Green out for 108 in 12.1 overs (73 balls). Faizan Kanji scored 39 and Angad Kapur 21 and MIT got the easy win. Mohit Kansal took 3 wickets for 10 runs, and Samath Mohan 3 for 14.
Priyank Kumar was MVP
–
RUTGERS Scarlet Knights vs MIT Engineers
Sunday May 25 in NJ
–
Rutgers hosted MIT, who made the 5 hour trip to North Brunswick. American College Cricket Lloyd Jodah attended this final game of the semester for League-leading team, MIT. It was going to be a tough challenge for MIT, which was a new club, just begun last semester. The Scarlet Knights on the other hand, was 1 of the top 4 teams in the nation, having reached the Final 4 at the Nationals.
–
With a very slow outfield, the grass being particularly long because of rain in recent days,Rutgers batted first and scored 103 for 6 in 20 overs (120 balls) .Mohammad Chaudhary scored 32 and Ehsen Wajeeh made 26 retired hurt. Usman Ayya took 2 wickets for 15 runs, Mohit Kansal 2 for 23.
Excellent bowling by Farhan Naqvi, 4 wickets for 11, Sapan Sharma 2 for 18 restricted MIT to 76 for 9 in 20 overs in the tough batting conditions as Rutgers won.
–
Rutgers Farhan Navqi was MVP. American College Cricket President Lloyd Jodah earlier took action photos, at the end spoke with the teams.