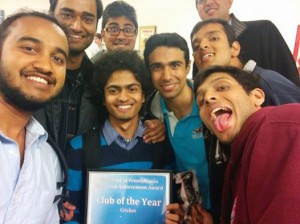 The Penn Cricket Club has been named the Sports Club of the Year 2013-1014 by the University of Pennsylvania, out of more than 35 clubs.
–
This is not surprising, owing to the tremendous accomplishments this past year under the leadership of Subas Poudel . Poudel has built upon the excellent work of previous club executives and leaders like Jay Dave, Saksham Karwal and Gavish Sharma among others. It was Karwal that led the team to the Final 4 in of the 2011 National Championship, and Sharma has been the elder statesman of the club.
–
In the Fall Semester Poudel led Penn to victory in the first American College Cricket Ivy League Championship, at the historic and prestigious Philadelphia Cricket Club. Penn defeated historic rival, Harvard in the Finals to win the Colin M. Jodah Trophy. Penn started an official cricket back in 1842 and harvard in 1868. It was a moment that connected all the way back in American history to the 1800s.
–
Penn then went on to defeat then reigning National Champion UMBC at the American College Cricket Mid Atlantic Championship, in a nail-biting last ball finish, to win the Mid Atlantic Regional title ! This vaulted Penn to the # 2 Ranking in the nation going into the National Championship.
–
In the Fall the club under Poudel's leadership, also played a leading role in the expansion of the American College Cricket Home & Away League, and their Facebook page provides a positive face for the club, being actively updated with American College Cricket news.