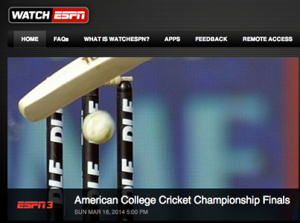 For immediate release:
February 26, 2014
TV Asia – the Exclusive Broadcast partner of American College Cricket – is pleased to announce an agreement with ESPN3 that will deliver the American College Cricket National Championship Finals live on Sunday March 16, 2014 from the magnificent Broward County Stadium in Fort Lauderdale, Florida.
The Finals will also be carried live on TV Asia nationally on Dish Satellite, Dish World and on Cable where TV Asia is carried on their systems.
Cricket fans will now have an opportunity to watch American College Cricket in the US online via WatchESPN.com and on smartphones and tablets via the WatchESPN app. Additionally, it can be streamed on televisions through ESPN on Xbox LIVE by Gold members, Apple TV and Roku.
TV Asia has been airing 60 hours of American College Cricket over 2 years and in keeping with its mission of local relevancy has been investing and building American College Cricket brand identity and awareness with Presenting Sponsors Coca Cola.
"ESPN3 continues to build its position as a leader in delivering premier events from the world's second most popular sport in the US," said Jason Bernstein, Senior Director of Programming and Acquisitions, ESPN. "By carrying the American College Cricket National Championship Finals, we are able to deliver the sport nationally across a variety of platforms that are easily accessible to this passionate and fast growing fan base."
"TV Asia is committed to highlighting South Asian achievers and role models in the US and Canada in sports, arts, business and cultural spheres and will continue to invest in our South Asian community," stated H.R. Shah, Chairman TV Asia.
"TV Asia is the leading South Asian TV Channel specializing in locally relevant programs and engagement with the community nationally," stated Lal Dadlaney, SVPBusiness & Operations TV Asia. "We are delighted to work with ESPN3 to scale and add validity to American College Cricket."
American College Cricket founder & President Lloyd Jodah stated:
"All American College Cricket members – including the student leaders who believed in the vision and came to the first American College Cricket Championship in March 2009 – who helped us start the clubs and get them to the Nationals these past 5 years as well as all of our players, thank TV Asia for its strong belief in and commitment to us these past two and a half years. We look forward to working with ESPN3 through our partnership with TV Asia."
About ESPN3
ESPN3 is ESPN's live multi-screen sports network, a destination that delivers thousands of exclusive sports events annually. It is accessible online at WatchESPN.com, on smartphones and tablets via the WatchESPN app and streamed on televisions through ESPN on Xbox LIVE to Gold members, Apple TV and Roku. The network is currently available to more than 85 million homes at no additional cost to fans who receive their high-speed Internet connection or video subscription from an affiliated service provider. The network is also available at no cost to approximately 21 million U.S. college students and U.S.-based military personnel via computers, smartphones and tablets connected to on-campus educational and on-base military broadband and Wi-Fi networks.
About TV Asia
TV Asia is a New Jersey based Pay TV Channel available in USA in HD on Dish Satellite Channel 700, Dish World IPTV and in SD on major Cable systems such as Comcast Xfinity, Time Warner, Cablevision etc including Verizon FIOS & AT & T U Verse. In Canada we are on Rogers Cable Toronto and Bell IPTV.
TV Asia is celebrating 20 years in United States and engages in dialogue via outreach programs with the community and is the Voice and Mirror of the South Asian Community in North America.
For further information visit www.tvasiausa.com andwww.YouTube.com/tvasiausa for program schedules as well as updates and short videos and on Facebook www.facebook.com/tvasiausa and stay connected to TV Asia.
About American College Cricket
American College Cricket was founded in October 2008 by Lloyd Jodah and has developed clubs in over 70 member colleges all over the USA & Canada. Starting with a National Championship in March 2009 played for the Shiv Chanderpaul Trophy, American College Cricket developed Regional Championships in the Fall semester, and a Home & Away season year round.
American College Cricket was the first organization in the USA & Canada to web stream cricket (in March 2010), and the first, with TV Asia, to televise cricket (Oct 2011).
The organization has been featured in major media such as the NY Times, Washington Post, Boston Globe, NY Daily News and many others and played a role in the National Baseball Hall of Fame Exhibition: Swinging Away – How Cricket & Baseball Connect".
for further information visit: Face book : https://www.facebook.com/CollegeCricket
Twitter: @CollegeCricketU;   Website: http://americancollegecricket.com/
For further media info & Sponsorship opportunities contact:
Lloyd Jodah, President- American College Cricket
Email : Dogevpr2@aim.com   Ph # 646 515 0712
Pradeep Hegde  Vice President ,Advertising/Marketing
email: pradeep@tvasiausa.com