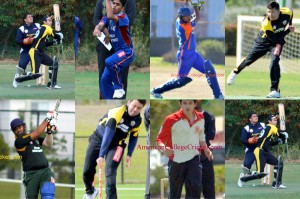 Selecting the College Cricketers of the Year is an extremely difficult task made easier this year by the availability of all our statistics on Crichq. However stats is only one criteria to be a College Cricketer of the Year – overall conduct of a player as an ambassador of the game & American College Cricket, efforts that promote American College Cricket (on Facebook & elsewhere). leadership on and off the field are all aspects that are considered.
Of the many who earned consideration as our '2013 College Cricketers of the Year' the winners are named below with a few highlights from their year. One is selected as the winner of the Rohan Kanhai Award – the 2013 Rohan Kanhai Award winner is Hayat Khan (Boston U).
HAYAT KHAN (Boston University) : He led Boston University Cricket Club through changes that saw the club get promoted in status, and access to an on-campus playing field. On the other hand alumni could no longer play for the club (by school rules), but their involvement continued materially, and 3 alums became volunteer coaches for the club.
American College Cricket got great exposure to a non-cricket audience when BUCC was featured for weeks on the Boston University Homepage in a GIF of a BU bowler bowling against Harvard. Footage came from a video Hayat and BUCC worked on late 2012, produced & edited by Joseph Chan, named aptly "Not just a Gentleman's Game" which gave a superb explanation of the game,and its American context, with action !
Hayat, assisted by Lloyd Jodah, had begun a project to get a Course in Cricket at BU, for Credit. This Spring the Course began, with Hayat as a paid student-lecturer, and it has proven to be very popular, teaching & introducing new students to cricket.
Hayat's initiative also was one of the forces behind the huge expansion of the American College Cricket Home & Away season and addition of new clubs, like WPI and this in turn led to a major article in major media, the Boston globe in October. The club also gained access to a field on campus, to play Home games & practice. On the field, Hayat topped the list of wicket takers in 2013 with 17 wickets, and was # 2 in total runs with 386.Stats http://www.crichq.com/players/130101
Notably Hayat is new breed of American cricketers, having played in the NYC high school (PSAL) league, the NYPD youth league & American College Cricket. The original Master Blaster, Rohan Kanhai was a leader and a pioneer even beyond the cricket field and Hayat Khan's on field performance, added to his leadership on & off the field made him deserving of the Rohan Kanhai Award.
–
SUBAS POUDEL– University of Pennsylvania . In 2011 Penn reach the final four of the Nationals, & got a meeting with Penn President Amy Gutmann when the team returned home. It took 2 and a half years for their next taste of success , in 2013 at the inaugural American College Cricket Ivy League Championship under the captaincy of Subas Poudel . Held in the historic & prestigious Philadelphia Cricket Club, Penn defeated their rivals of over 150 years, Harvard, to win the Colin M Jodah Trophy and be Ivy League Champion. Though the 2 schools have a history & rivalry in cricket of over 150 years, this was the first actual Ivy League Championship for cricket.
Buoyant from this heartfelt win – winning any Ivy League title has historically been of great significance amongst the 8 prestigious Ivy League universities – Penn then pulled an upset by defeating National Champion UMBC, to win the Mid Atlantic title, in a thrilling game on TV Asia (Saturday Jan 11 at 1.30 pm, rebroadcast midnight) !
In a real sense a leader like Poudel earned the Award (and Penn's victories) through motivating optimum contributions from his players, rather than his own personal play, though his distinctive martial arts-like bowling action can make him Bruce Lee-like in his effectiveness as a bowler.
Poudel also led Penn in Home & Away matches, including a trip to Boston to play Harvard & Boston U.  Subas' stats : http://www.crichq.com/players/128825-subas-poudel#bowling-stats
–
IBRAHIM KHAN – Harvard University ."Over by over, Ball by Ball" is his mantra and he demonstrated a focus our top student-leaders have, that will lead to results  in any field of life.
In March Ibrahim found a way to get Harvard to the National Championship at Exam time ! Later he acquired the use of Jordan Field, Harvard's on campus field hockey field for Home & Away games- determined to win the first season of the Home & Away Championship. The end result was Harvard played the most games, 12, many as night games under lights and many clubs were invited to visit, including U of Pennsylvania and Princeton from far away ! This served as inspiration for other clubs to get their own Home fields.
Whilst American College Cricket provided the vehicle of 'Home & Away' games, the strong execution by Ibrahim and Boston U's Hayat Khan led to a degree of activity that caught the attention of the Boston Globe, for a major article ! Other media coverage came from the Harvard Crimson and Harvard Gazette.
Simultaneously Ibrahim found a major sponsor : Hit Wicket Bar &  Restaurant, which opened in 2013 in Boston as the first cricket-themed sports bar in the US and the support of Harvard alum & current Professor Stephen Blyth. As if all of this was not enough, the flights of the Harvard Cricket Club for the March 2014 Nationals have already been bought !
Ibrahim's initiative also played a role in bringing new clubs into American College Cricket, like Bryant University. On the field he was the MVP of the Home & Away season, topping the Batting & Bowling aggregates . For the year Ibrahim scored the most runs in American College Cricket, 470, and took 15 wickets. Stats: http://www.crichq.com/players/295312#batting-stats
–
RIKIN PARIKH – U of Maryland Baltimore County. In a real sense leaders like Parikh & Poudel earned the Award through motivating optimum contributions from their star players, rather than their own personal play.
The UMBC Retreivers reached the Final four in 2010, & played on the first webstream of domestic cricket in North America at the American College Cricket National Championship. However amidst the tough competition from the other college teams, and UMBC did not reach even the Semis of another American College Cricket tournament until Rikin Parikh became captain & led them to victory at the 2012 Mid Atlantic Championship – 2 and a half years later !
Rikin then topped this by leading the Retreivers to becoming National Champions in 2013 ! When necessary he performed well as an all rounder. He took 7 wickets, and averaged 27 with the bat. A banner year for our Captain, as in January 2013 he got married ! http://www.crichq.com/players/130064-rikin-parikh–2#bowling-stats
–
GURNISH SINGH (UMBC). A ready smile hides the fierce competitiveness of UMBC's opening bowler. His fire played a huge role in getting his team through the final stages to the National title. 2 wickets for 13 runs, & 2 run outs in the Semi Final. Gurnish's 3 wickets for 23 in the Finals, included the key wickets of USF's 2 most dangerous batsmen, Abdullah Sheikh and Sai Ramesh, both for duck !
Overall he was one of the top bowlers at the Nationals, taking 10 wickets. Add a couple of key catches and MVP awards in the semi finals, and the Finals to propel University of Maryland Baltimore County to the National title, and the Chanderpaul Trophy.
At the Mid Atlantic Regionals Gurnish made 37, and an amazing 57* in 24 balls, including 7 sixes, driving the ball over the top cleanly and arrogantly.http://www.crichq.com/players/130001-gurnish-singh#bowling-stats
–
UMER SYED – University of Texas Arlington. When Umer reached out to Lloyd Jodah, American College Cricket President a few weeks before the March 2013 National Championship there was no cricket club so together the work began to establish one, & the appropriate paperwork filed, players 'recruited', uniforms ordered etc.
Umer did tremendous work in getting major sponsorships from Samosa Hut & Grill, Dallas Premiere League & Currytos Restaurant. Prior to their Nationals trip, the UTA team received coverage from UTA media. At the Championship UTA performed exceedingly well, and only lost in the final four – an amazing performance by a new club against highly competitive teams ! Back home they received official club status. The team again received another article in the UTA media.
The quiet-spoken Umer then demonstrated more of the American College Cricket spirit by volunteering to host the South West Regionals in Dallas – he commandeered 6 fields for the 2 days of competition between 8 college teams from Texas, Alabama & Arkansas, and with assistance from Haris Siddiqui, ensured a successful Regionals in Dallas. On the field Umer then led the UTA Mavericks to become the South West Champions !
Umer's stats : 255 in 8 matches, Highest Score of 66 with 2 50s. took 10 wickets, with a best of 4 for 26.http://www.crichq.com/players/420816#batting-stats
–
RAGHAV BHARADWAJ – U of Maryland Baltimore County. Raghav, together with Eraj Abidi, has been the top batsman for UMBC since 2010. His dedication to the club  and American College Cricket was exemplified when he graduated & moved to Seattle for a job – but flew into DC to play for UMBC Retreivers in the 2010 Regionals (he was eligible to play as an alumni by American College Cricket rules).
At this year's Nationals once again the smiling assassin Bharadwaj was consistently high scoring, giving UMBC scores that enabled the team to get match-winning totals, and eventually the Chanderpaul Trophy, whilst Raghav earned himself the Championship MVP Award, just ahead of USF's Sai Ramesh !
Stats : Raghav scored 249 runs at an average of 62.5, with Highest Score of 73*. Bowling he could be devastating as when he took 4 for 31. Overall at the Nationals he took 8 wickets. http://www.crichq.com/players/130060-raghav-bharadwaj–
–
SAI RAMESH – U of South Florida. A previous winner of the College Cricketer Award, a multiple All American selection, and the 2012 National Championship MVP Ramesh started the year leading the USF Bulls into another American College Cricket Finals but once more the Bulls fell just short ! This was despite his own all round performance, particularly with the ball & behind the wicket, just narrowly missing the MVP Award.
The team came to the 2013 South East Regionals, with a record of incredible consistency marred by the spectre of 'choking'. Under Ramesh, the team got over the hump and took the South West title ! Simultaneously Ramesh cemented his place as one of the best batsmen in the US and earned himself an invitation to a 2 month cricket training camp in India !
Ramesh's stats : Sai took the most wickets at the Nationals, 14, and featured in a number of run outs and stumpings. He scored 121 runs . Ramesh's acceptance of umpiring decisions, even lbws, serve as examples of the best cricket behavior. http://americancollegecricket.com/american-college-cricket-scores/
Sai-ber Ramesh's 2013 Photo album : https://www.facebook.com/media/set/?set=a.10151838509524331.1073741839.264550834330&type=3