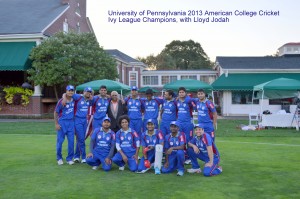 The Mid Atlantic Championship presented by Coca Cola, supported by Dish Network, once again took place at the twin fields of the British Officers Cricket Club near Philadelphia, and involved National Champion University of Maryland Baltimore (UMBC), 2011 Nationals Semi Finalist & 2013 Ivy League Champion University of Pennsylvania, Virginia Tech, Penn State, Princeton and Drexel.
Despite heavy rain the 2 days before, thanks to BOCC President Ernie Precious, the fields were ready to play, with a fast outfield. American College Cricket President Lloyd Jodah,among other duties, had discussions with the teams about 'Home & Away' matches & the future.
Six games took place on the Saturday of the tournament, to determine the Final Four. Here are the Match Reports:
VIRGINIA TECH vs DREXEL U : This game provided excitement down to the last ball, in a tightly contest match ! Batting first the Drexel Dragons had some early batting success, & was 97 for 2. Sanghavi made 34Malhotra 30 & Maeez Veqar 20.
Maeez Veqar is a younger brother of Nafal Veqar who played for Boston University at the first American College Cricket Spring Break Championship in 2009 & looked to be a good batsman ! For VT Siddanth Pai took 2 for 10, & Karthik Radhakrishnan 2 for 23.
The Hokies response was mainly led by Anirudh Roy who made 46 in 33 balls,with 4 fours & 3 sixes but wickets kept falling at the other end even as Tech kept up with the required runs !
With 1 to tie,2 to win on the final ball, Jasim Khan was run out for 15 ! & Drexel won ! Kabir Monocha took 3 for 33, Veqar 2 for 12 & Yadav 2 for 21.
Drexel's Maeez Vaqar was MVP. http://www.crichq.com/matches/68710#inning-1
UMBC vs DREXEL : Drexel came into this game brimming with coincidence but ran into the buzzsaw of Rahul Bhanot, making his American College Cricket debut ! Rahul blasted 108 in 70 balls, with 8 fours & 6 sixes – hitting many way out of the ground ! Kulkarni made 34 and Minaj Shahid 23 as the UMBC Retreivers amassed 192 for 6.
Some early wickets by Gurnish Singh, Maniar & Shahid ensured the Dragons were out of it.
Ranasinghe made 35,Malhotra 35 and Dokania 30* as Drexel managed to get to 118 for 7 in 20, losing by 75 runs.
http://www.crichq.com/matches/68744#inning-1
MVP was Rahul Bhanot, who, as one of American College Cricket's century makers, earned himself a 3 Year Sponsorship from Hammer Cricket.
http://americancollegecricket.com/2013/10/16/3-year-hammer-cricket-sponsorships-for-all-of-our-century-makers/
VIRGINIA TECH vs UMBC : Another thrilling match involving Virginia Tech Hokies ! Betting first the Hokies made 123 in 16 overs (a reduced overs match) Anirudh made 18 whoilst Jasim Khan was agin run out in the final over looking for runs, for 19. UMBC's Maniar took 2 for 23.
Despite Shahid's 24, & Bhanot's 17 UMBC were in trouble at 49 for 4, and wickets kept tumbling. But some clean & confident driving by Gurnish for 7 massive sixes kept UMBC in the game !
Singh's 57* in 24 balls had NO fours, but 7 sixes as he gave UMB a close win & earned the MVP award ! http://www.crichq.com/matches/68792#inning-2
PRINCETON vs U of PENN : Aditya Nagaraja took 2 quick wickets (for 10) to begin Princeton's slide, that Subas Poudel (3 for 15) hastened, and Roshan Rai 3 for 4 wrapped up the tail, even adding a run out to his tally. Princeton mustered only 63 all out, though they played with a few of their top players, including Ryan Edwards !
Mayur Rao (no relation to Roshan) then launched an attack like West Indian Rohan Kanhai, beginning with a glorious cover drive, followed by swirling & spinning hooks, and slashing cuts to get 50* out of the 64 needed to win (7 fours,1 six) . His partner Ruben Abraham, himself an attacking strokeplayer, just gave the strike to Rao as much as possible and finished on 8*
Subas Poudel was the MVP. http://www.crichq.com/matches/68732#inning-1
PENN STATE vs PRINCETON : Madhav Sinha (Penn State)  took 3 wickets  for 13 runs,  had 2 run outs and a catch as Penn State restricted Princeton to 84 all out in 19.5 overs. Vijit Kappor 15 was the top scorer. Chirag Mehtani took 2 for 9.
Big Rohit Reddy smashed 3 fours and 1 six in his 20 in 6 balls to polish off the win for Penn State, Shreyansh Jain made 26.
Madhav Sinha was MVP http://www.crichq.com/matches/68739#inning-1
U of PENNSYLVANIA QUAKERS vs PENN STATE : Some bad running between the wickets, 3 wickets for 6 by Meet Vora & excellent fielding by Unsure (4 run outs) resulted in  Penn State making 103 all out. R Jain topscored with 47.
The Quakers got off to a good start, 48 runs for the opening partnership between Mayur Rao 23 and Ruben Abraham 33 and won by 6 wickets in the 19th over.
MVP was Meet Vora, narrowly edging Unsure. http://www.crichq.com/matches/68769#inning-1
A lot of players will NOT have their complete stats recognised because of not taking responsibilty to ensure the scoring is done correctly, or corrected afterwards. There should be NO "Unsures" on scorecards.
Incomplete scorecards will affect players' abilities to win Awards, & clubs qualification for future tournaments, including the Nationals.