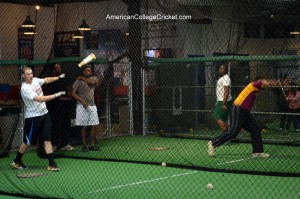 Ross Friedman aka Ross the Boss has made a name for himself in Heavy Metal music, in the band "Manowar" (1980-88) and his lead guitar career stretches back to 1973. It was a pleasure to meet him, as I'm a mean air guitarist myself.
Ross, when not on tour in Canada, Europe or South America can be found at "The Cage Baseball" in Middle Village, Queens – a large family-owned Indoor facility for Baseball, Softball, & Soccer.
During the winter Ross was approached by a member of the Commonwealth League who suggested that "The Cage" be used for cricket – the result ? For the past 3 months "The Cage Baseball" has been open to cricket, and cricketers can practice next to baseball & softball players.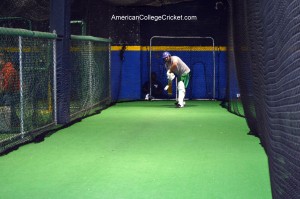 In 2011 the National Baseball Hall of Fame celebrated America's original pastime with a 10 month cricket exhibition, and American College Cricket played a role – so its a delight to see Baseball & cricket players practicing side by side.
There are bowling machines, capable of spin & 90 mph balls. However the balls must be fed individually so you need someone with you – The Cage provides dimpled balls. Helmets are mandatory
The rates are very reasonable, and "The Cage Baseball" is easy to reach from Queens, Brooklyn, Manhattan & the Bronx.62-40 Metropolitan Ave, Middle Village, NY – 718 366 2122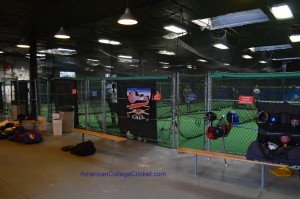 For cricket : $ 20 for half hour,$ 40 for 1 hour  – these rates are lower than that paid by baseball players.
Hours: Mon – Fri :  3 pm to 10 pm  ;    Sat – Sun: 10 am – 10 pm   
"The Cage" also is open for Kids' Birthday parties so how about a Kids' cricket party ?