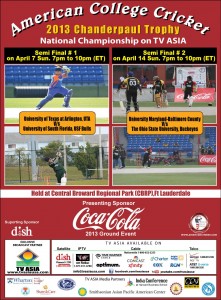 CRICHQ & your Internal Tournaments
You've all seen the amazing job that was accomplished with the CricHQ scoring app & Competition Management module, for our National Championship – scheduling of 50 matches with scoring & collection of all stats efficiently, plus calculation of Bonus Points, pitch maps, wagon wheels etc – its a cricketer's dream:http://americancollegecricket.com/american-college-cricket-scores/
Use of "Competition Management" carries a Licensing fee, but the great news is : due to our Partnership with CricHQ, American College Cricket clubs can use it for free !
Teams that played in the Nationals, plus College of Wooster may begin using this now for internal tournaments – send an email to Lloyd, Dogevpr2@aim.com for approval. For questions on using Crichq email Jamie@crichq.com and copy Lloyd.
HOME & AWAY matches
Home & Away matches will begin now for ALL 70 plus American College Cricket clubs. All matches must be played by our rules, including Bonus Points. Boston University & Harvard will probably be the first.
https://www.crichq.com/competitions/312-american-college-cricket-league
As you can see, MVP, batting,bowling, fielding etc stats will be calculated. Off the field factors will be added for all awards. Your alumni & other fans can follow anywhere in the world and TV Asia will carry report regularly.
Email Jamie@crichq.com (& copy Lloyd) when the date of your match has been confirmed your teams will be loaded for scoring.
Any questions email American College Cricket President Lloyd Dogevpr2@aim.com
There will be additional Bonus Points awarded for playing an AWAY game – the amount will be announced soon.
Teams eligible for the National Championship will be heavily based on the Home & Away matches played.
Top team by number of matches played will be guaranteed a match in the CBRP Stadium next Nationals.
Top team by average Points earned  (minimum 6 matches) will be our season's Champion & be guaranteed a match in the CBRP Stadium at the 2013 Nationals, plus other rewards to be announced.
Only matches played between American College Cricket teams will be approved.
Nationals Photo album
https://www.facebook.com/media/set/?set=a.10151369854564331.1073741825.264550834330&type=1