The deadline for registration to the Mid Atlantic Championship is Sept 26. All teams must be in proper uniforms as the Semis & Finals will be on TV Asia.
In selecting the venues for the American College Cricket Regional Championship, starting in 2010, we have striven to get the best fields with the help of longtime cricket administrators like Krish Prasad, Hugh Pitter,Rudy Persaud,Lesley Lowe, Sheldon Ellis, Sarge, David Sentance, Arvin Varma as well as our own students at Ohio State,U of Iowa, & Texas A & M.
From last season when TV Asia began televising American College Cricket matches, new challenges were presented. We needed fields with electrical power, that had hard top surfaces to support the camera lifts & some other specific conditions. Hugh Pitter stepped up and provided the Gateway Cricket Oval in Brooklyn for cricket history – the first domestic televised matches in the USA & Canada ! 
This past Sunday our Venue Selection Task Force (aka American College Cricket President Lloyd Jodah) visited Philadelphia to inspect fields for the Mid Atlantic Regional Championship.
Last year the Mid Atlantic Regional was held in NYC to facilitate the TV production. For 2012 it will be in Evansburg, Pennsylvania, to minimize the travelling for the Mid Atlantic teams (mainly from the Maryland, Virginia area) but to make the logistics of the TV Asia broadcast easier.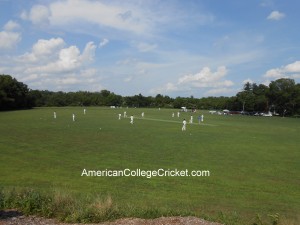 Ernie Precious, President of the British Officers Cricket Club gave Lloyd a tour of the Club's 2 fields sitting side by side, and the Clubhouse. The fields are full size, with artificial wickets.The Clubhouse has a number of rooms, a full kitchen and bathrooms. A garage houses maintenance equipment, including a large mower which Ernie uses to cut the grass low to a cricket-suitable length – no bush cricket here !
Ernie said he would be delighted to have an American College Cricket regional at the fields, and has offered every assistance. Furthermore, with the American College Cricket President's agreement, any American College Cricket player is welcome to join the British Officers Cricket Club to play during the Summer Break at a special student rate.
The Britsh Officers' Cricket Club was revived in 1986 by Alfred Reeves & and the late Peter Stone, but has a history that goes back to the "Golden Age" of American cricket in the late 1800s.
The dates for the Mid Atlantic Championship are Oct 20 & 21.  Pool play will happen on Oct 20, and the Semis & Finals willl be played on Oct 20, and filmed for TV. 
Address : 528 Skippack Creek Rd, Collegeville, Pa 19426
North East – Pool play will happen on Oct 6. Semis & the Finals of the North East Championship will played be on Sunday Oct 7 for TV.
Accordingly the South East Championship is now Nov 3 & 4 at the CBRP. The South West will be in Jan in Texas, whilst the Mid West will be Sept 29 & 30 in Ohio & the West Coast Thanksgiving Weekend in CA.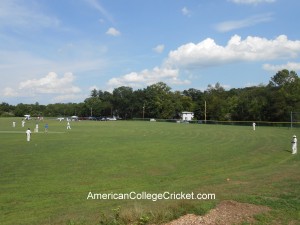 Arkansas State University, led Divya Patel will be hosting a mini-regional, with a Bar B Que planned, with the University of Memphis and University of Arkansas Cricket Clubs