Its appropriate that a University named Ball State should have cricket, and so it is that American College Cricket has now extended to Ball State University in Indiana.
Club President Vishal said, "We want to be the best college team in Indiana, and beat schools like Indiana and Purdue Universities. We look forward to playing in the fall American College Cricket Midwest Championship (for the Gordon Gee Trophy), and then make it to the Nationals next March. Getting the opportunity to play on TV would be like a dream come true."
He added, "We're hoping to teach cricket to Middle School kids in Muncie, and expand the gaame further in our community."
TV Asia will televise over 20 American College Cricket matches in 2012, all the Semis & Finals of the regional Championships. 3 matches of the American College Cricket National Championship last March were on TV Asia in the USA & Canada.
With International Programs set up in 2 cricket playing countries, cricket now gives Ball State University an additional connection to those countries. Established in 1972 the oldest Ball State international program, the London Center, hosts 25-35 full-time students, who live and study in London. There is also a Worcester Center in England, and an Australia Center.
Charlie Cardinal
is Ball State's mascot. He is sometimes called  "Charlie." Actor Doug Jones, who has appeared in many films,including Fantastic Four: Rise of the Silver Surfer, Hellboy, Batman Returns, Men in Black II and Hellboy, was Charlie Cardinal, whilst attending Ball State.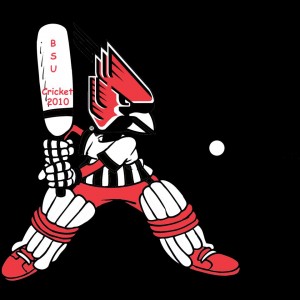 Other alumni include David Letterman,cartoonist Jim Davis, the creater of Garfield and Joyce DeWitt, who played
Janet Wood
in the 1970s sitcom
Three's Company
.
 John Schnattner, another alumni, is the founder and Chairman of
Papa John's Pizza
 – which makes the cricket team wonder if they'll get free pizza for a year if they win a regional Championship !
Mark Champion, the narrator of the "I'm going to Disney World !" Superbowl commercials attended Ball State.
Ball State has appeared in five NCAA Division I postseason bowl games, but they have yet to win. However in 2006 Ball State placed 8th in the nation in the Cheerleading Championship.
Ball State University Cricket Club will get free uniforms courtesy of American College Cricket sponsor Coca Cola.