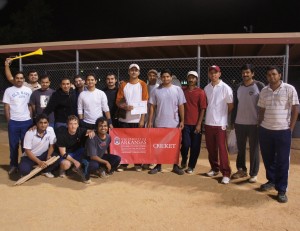 The Razorbacks have joined American College Cricket ! A cricket club was formed at the University of Arkansas last year and held its first meeting Sept 8. 
Club President Eric Holder said, "We are excited to be a part of such a strong cricketing body.  Thank you for accepting our club into your association ! UACC is eager to further the passion of cricket throughout the University and the surrounding area."
The Executive Committee is:
Eric Holder – President
Sandeep Rana – Vice President
Ashfaqur Rahman – Publicity/Marketing Officer
Pratyush Rai – Treasurer
Jay Rayaprolu – Secretary
The Club held an internal tournament in October . They also held a fundraiser at TCBY, Garland Ave to raise funds and awareness for the Cricket Club. The Cricket club was also heavily involved in the Clothes Donation Drive by University Recreation towards the end of the year, donating more than 100 pounds of clothes.
Some members also visited the Baptist Collegiate Mission on Campus to give a little 'tutorial' on cricket.
The University of Arkansas' mascot is the
Razorback,
a type of wild boar, and UA's teams are often referred to as the
Hogs
(shortened version of Razorbacks). School colors are cardinal red and white.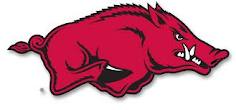 A football team began representing the University of Arkansas in 1894 and ended the 2011 season ranked # 3.
In 2004 Jamaican sprinter
Veronica Campbell
-Brown became the first Razorback woman to win a gold medal in the Olympics.
Fans of the University of Arkansas have been "Calling the Hogs" since the 1920s.
Founded in 1871, for the 2011 Fall semester University of Arkansas had an enrollment of 23,199 students, with 5.3 % being International students. The University is ranked high in many academic categories.
The Razorbacks are preparing for their first American College Cricket matches, a double-header against Arkansas State University, which could be the first League games of American College Cricket.