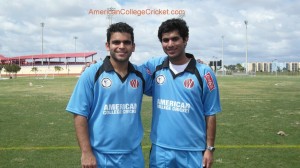 George Washington University vs Cleveland State U
It was a hard fought game, GWU batted first and opener Vivek Hadkar 31 (3 fours) got them to a good start. Coming at # 5 Ashutosh blasted 48 (4 fours & 3 sixes) to take them to 141 in 20 overs.
Bowling for Cleveland State Pawan took 3 early wickets for 27 runs, but Ashutosh powered GWU's recovery.
Cleveland State struggled, with only Abhilash of the early batsmen hitting 24 (3 fours) until Dhaval came to the rescue, smashing 6 fours & 2 sixes in a fantastic 53*. He hit the ball in the gaps to take over the game and win it for Cleveland State.
–
Carnegie Mellon vs Texas Tech
One of the first teams in American College Cricket, Carnegie Mellon returned to their 2nd American College Cricket National Cahmpionship. Two players, freshmen in 2009, returned as seniors, Sahil Jolly and Aayush.
Carnegie batted first, and put up a good total of 159 for 7. Naveen hit 53 (4 sixes, 4 fours)  whilst Pratiq made 17. 
Texas Tech never were out of the game, tough as the task was, and made 141. Raghav opened and made 37 (4 fours), Niihal Shah 27.
So Carnegie Mellon had returned to the sidefields of the Central Broward Regional Park, where it all started back in 2009.
–
Texas A & M vs Penn State
The Aggies won the toss and sent Penn state in to bat. Currently ranked at # 1, Texas A & M was eager to continue their unbeaten streak in American College Cricket.     
However they were withut their top fast bowler Ockert Greyvenstein. Nevertheless, the Penn State batting struggled and made 83. Wasif took 3 wickets for 4 runs in 3 overs. Sudhakar 2 wickets for 19 in 4 overs.
A good opening partnership by Texas A & M openers, captain Hamza 23 (2 fours) and Anurag 32 (3 fours) set up the win for the Aggies. Left hander Anurag had been their top opener at the South West regional. Venkatesh 22 (2 fours & 1 six) took Texas A & M home for the win.
–
AUBURN UNIVERSTY vs U of HOUSTON CLEARLAKE
2010 South East Champion Auburn were restricted to 106 for 8 wickets against UHCL. Pramod topscoring with 30 (2 fours) whilst captain Naveen Thiaragrajan made 21 (2 fours). Varun ended on 20* (1 six).  
Despite losing 2 of their top bowlers to graduation, Rahul Potghan and Ahmed Faraz, Auburn held the Clearlake batsmen and it took a captain's knock by Prashant Manne of 57* (6 fours & 2 sixes) to get an excitingly close win for Houston Clearlake Blue Herons.
The win came after 19.3 overs.