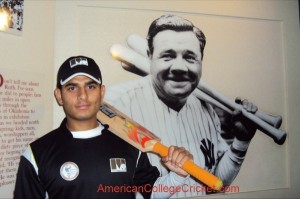 Back in 2010 Lloyd wrote an article about "America's first Cricket Star in 100 years – Adil Bhatti" . Jan 2012 an updated version of it was published, upon his selection to the USA team. We're reposting upon Adil's getting back into the USA Team – Lloyd Jodah 
In his first year of American College Cricket Adil Bhatti made the Front page story of the Sunday Washington Post, and also the New York Times, Voice of America News, Sun Sentinel and his college and local media, after leading his team to the Chanderpaul Trophy. 
2009 
After winning the first American College Cricket Championship in 2009, Bhatti and his team received a Proclamation from the Montgomery County Council and accolades from his school Montgomery College. The team's, and American College Cricket's story appeared in countless Indian media, on Pakistan and Afghanistan TV as well as various American and International cricket media. 
Bhatti was also selected as the Captain of the 2009 College Cricket All America 1st Team and declared 2009 College Cricketer of the Year. It's easy to see why Adil Bhatti could be considered the first American cricket star since the great John Bart King a hundred years ago. 
A talented all-rounder, Adil Bhatti broke onto the scene when he led Montgomery College to the Chanderpaul Trophy at the inaugural American College Cricket Spring Break Championship in March 2009. In the Finals he came at number four when his Team looked shaky ,and together with Finals MVP Mohammed Kamran put on 108 runs to steer MC to a defendable total of 175 for 3 off 20 overs, scoring 36*. His fast bowling, and astute captaincy then ensured MC defeated University of South Florida for the first National Championship. 
Before the Championship the MC players had never played as a Team before, nevertheless Bhatti motivated and managed the Team with a professionalism that was impressive. 
Bhatti said "Winning the Chanderpaul Trophy was unbelievable. Getting water poured on me….well, I had seen that kind of excitement in College football but I never thought I would lead a Team to any kind of Championship. I was so proud of my Teammates, Kamran's innings in the Finals was match winning." 
When asked how he knew to captain so well his first time at it he acknowledged, "I learned a lot from the Captain of my WCL team, Anurag Sharma of the Bengals."
A tremendous fielder Bhatti is fast and extremely athletic. "I played basketball a lot in high school- in fact I thought I was going to be a basketball player,not a cricketer….and I workout in the gym 4 times a week " . 
Until 2006 Bhatti had only played tape-ball cricket! He began playing "hardball" in 2006 in the Washington Cricket League as an allrounder and excelling as a bowler. In 2009 his batting blossomed , first in the College championship, then in the WCL where he was one of only 2 batsmen to score 2 or more centuries. 
2009 also saw Bhatti lead MC on 3 trips to New York. Bhatti, leading an under strength Montgomery excelled with the bat and ball, and captained well in 2 tight losses. "That was a lot of fun though, as we got to meet Bollywood Stars like Tanushra Dutta" Bhatti said. The 3rd they won helped by a devastating opening spell by Bhatti when he took the wickets of Akeem Dodson and Any Mohammed. Then he smashed 32* out of a 41 run partnership to seal the win for Montgomery against a New York All Star team. 
2010 
In the 2010 American College Cricket Championship Montgomery had their moments but didn't make it to the final four. Against the University of the West Indies fiery pace attack, on a fast bouncy pitch Bhatti blasted 60* including 21 in one over. A hook off the helmet was as fine as you'll see. Bhatti's batting temperament is mature, holding his end when appropriate, or decimating the bowlers when the time is right. 
Later that summer ,with some of his team mates,Bhatti initiated a vist to St Patrick's Episcopal Day School, to teach elementary school kids about cricket, exemplifying the best of American College Cricket players. Any sport needs stars for kids to look up to, and wish to emulate. 
2011
Bhatti was selected as co –MVP, with Adrian Gordon, of the 2011 American College Cricket Spring Break Championship, where he smashed 3 fifties, steering his team to victories on a number of occasions. Montgomery College returned to the Finals where, though Bhatti scored 50 runs, they lost the Championship to George Mason University. 
In April 2011 Adil then went with American College Cricket founder and President Lloyd Jodah to the National Baseball Hall of Fame, to open the historic Cricket Exhibition, "Swinging Away – how Cricket and Baseball connect." Never before had cricket been honored by baseball ,the Hall of Fame, or America. 
He has been a College All American in 2009, 2010 & 2011.
I have watched Adil hold his end whilst his fellow batsman go after the bowlers, then take over when neccessary – he is a very smart cricket player, America's best T20 player and, through American College Cricket, became America's first cricket star in 100 years – we are happy he's finally getting an opportunity he said he wanted since 2009 – to play for the USA (in the ICC T20 World Cup Qualifier).