Five College Cricket Players of the Year 2011 will be declared, in no special order. Selection criteria includes OFF the field and on the field performances. 
Last year University of Florida's Vaibhav Ricky Nayar gave warning when he came close to taking a very new Gators Cricket team to victory in the Finals of the 2010 American College Cricket South East Championship, against SEC rivals Auburn.
At the nationals, the 2011 American College Cricket Spring Break Championship, Ricky scored 181 runs in 3 innings with a Highest Score of 101* (against the Ohio State Buckeyes), averaging 90.5. He also took 9 wickets, including 5 for 16 as the Gators narrowly missed the Semis.
At the 2011 Southeast regionals Nayar made 103 in 3 innings,being out only once,resulting in an average of 101. His 58* steered the Gators to victory over Auburn Tigers in the Finals. He took 8 wickets with a best of 3 for 9.
Overall his American College Cricket stats for 2011 : BATTING : 6 matches, 284 runs, 3 NO, 94.67 average, 101* highest score. Bowling : 17 wickets, best of 5 wickets for 17 runs.
In addition, Nayar wicket keeps well for the Gators.
As Vice – Captain of the USA Under 15 team at the ICC Americas tournament in 2005 Ricky was the MVP. Later he played for the USA Under 19 team. The 21 year old senior is double majoring majoring in Civil and Environmental Engineering.
Unquestionably a star on the field, Nayar humbly plays as part of the Gators team, and does as much as anyone off the field, for American College Cricket, as his Captain Vijay Pappu and previous Club President Krishnarao Dase attest.
Off the field he :
1. helped organize the Fall Gator Cricket Club tournament which raised $ 800 for the club
2. distributed flyers to promote Gator Cricket around UF.
3. volunteered at the Thrift Store and participated in "Project Downtown" for community service to help the club go from "Blue" to "Orange" level (& increased funding from the school).
4. obtained his CPR & First-Aid certificate to satisfy club emergency requirements.
Early in 2011, for the first time ever a cricketer was nominated for Athlete of the Year at the University of Florida (& probably any American or Canadian university in over 100 years) – that cricketer was Ricky Nayar, the epitome of an American College Cricket player.
As Ricky said then, " Thank you and American College Cricket….I got nominated for athlete of the year at UF because of my performances in regionals and nationals of American College Cricket. I never dreamt of this recognition for cricket in college."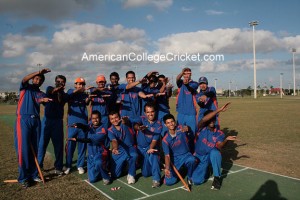 by Lloyd Jodah