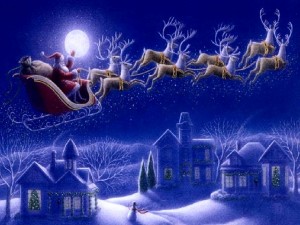 T'was the night before Christmas and all through the house not a soul was stirring….not even a mouse…..well actually the wireless mouse was stirring as Santa was on the computer on Facebook.
He was making last minute preparations for…..well he should have been making last minute preparations for Christmas, checking his list, and checking it twice ! But Santa was actually sending a Facebook Friend Request to Lloyd Jodah, President of American College Cricket and writting an email.
Mrs Claus was getting on Santa's case, "All month, on & on about what's his name, his 100 centuries,his retirement – its  Christmas why are you still busy with cricket ? You have to begin delivering Gifts now – the Sleigh is loaded and ready. Lots of kids are waiting for their Christmas Gifts!"
Santa was under pressure, but he kept his cool, "I know, I know….but this is really important….I got all these requests from guys in Universities all over the USA & Canada who want to play in the 2015 American College Cricket Spring Break Championship – I have to see what I can do to get them what they want. "
"Well hurry up" Mrs Claus urged, "Oh and whilst you're doing that see if you can get Rudolph in too, he was telling me something about Spring Break, chicks and cricket".
"Rudolph ?" Santa seemed surprised.
"Yes, Rudolph, " Mrs Claus confirmed, "The other Reindeer won't let him play in any Bowl Games, so he wants to go to the American College Cricket Championship."
"I'll see what I can do my Dear, " Santa said as he continued clicking away on his computer, taking a sip on his Starbucks Egg Nog.
Suddenly there was a loud "Yesss!!!" as Santa Claus jumped out of his seat, accidentally knocking over his Egg Nog……Mrs Claus came running into the room to see what the commotion was about !  "What happened ?! " she asked.
Santa answered excitedly, "Yes !!! Apparently Lloyd spends a lot of time on Facebook, he responded quickly ! He said he will allow the late Colleges in ! and even better….he will let Rudolph and the Reindeer play too….Rudolph will lead the North Pole University Cricket team ! "
Mrs Claus rushed over and hugged Santa, "OOoooooohhhhhh..what a Merry Christmas, I loove yooouuu my Jelly Belly,my Chubby Hubby,my Rolly Poly, my Michelin Man,….I would hug you tighter if I could get my arms around you !"
"Thank you dear" Santa said, "I'm happy just being with you here…..but it'll be great for Rudolph & the Reindeer to go play cricket at Spring Break with their college peers. Plus they'll enjoy the Ft Lauderdale Beaches, Miami, South Beach and the beautiful women down there".
"You are such a thoughtful man, Santa, and so self less " Mrs Claus gushed, "By the way, I've been meaning to ask you, what's all this mail we've been getting from American and Canadian Universities ? "
"Oh that? " Santa responded off handedly, "I've just been thinking of going back to college for a Master's ."
"Going back to College ?! " Mrs Claus let Santa go quicker than a hot plate, "Are you planning on going back to College so you can play in the American College Cricket Spring Break Championship ? ! "
Reported by Lloyd Jodah