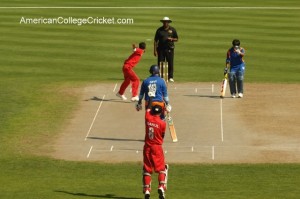 The American College Cricket South West Championship has been confirmed for Jan 28 & 29, 2012. It will be held on the Texas A & M University campus, utilising the Aggies Cricket club's new cricket field.
TV Asia will follow up its televising of the Northeast & Mid Atlantic Championship by televising the South West Championship throughout USA & Canada – and staff will work hard throughout Christmas and New Year on the logistics.
Teams confirmed include Texas Tech Raiders, Texas A & M Aggies & West Texas A & M Buffaloes.
The young players are excited at the opportunity to play on TV, and are also looking to improve their college's rankings and seed in the national Championship set for March 2012.
Whilst the Buffaloes are new to American College Cricket, Texas Tech Raiders and Texas A & M Aggies strong teams,each with the abilty to be serious contenders to win the Chanderpaul Trophy in March. University of Houston Cougars could possibly field a tough team too.
Pradeep Gudlur, last year's Aggies Cricket Club President, said, "We've collected stats and set up a good system for team selection, as objective as possible. 
We have a lot of good players and want to select the best team – for example I can't make the team. But that's ok with me, I'll be there to support."  
Any new teams wishing to join American College Cricket, or anyone wanting to start a club in their college, contact Lloyd Jodah.
Teams are currently registering for the national Championship, March 13 to 18- the deadline is Jan 31 – to be played in Ft Lauderdale.
by Lloyd Jodah