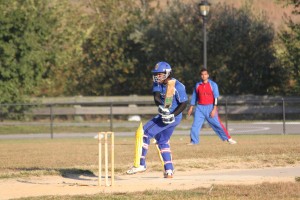 After catching the eye of American College Cricket President Lloyd Jodah at a practice game, Adrian Gordon worked with Lloyd to start a cricket club at NYU- Polytechnic University, to play in the 2010 American College Cricket Spring Break Championship.
–
Then in the first Northeast regional Gordon led NYU-Poly to the Finals, then travelled to Washington DC to assist in staging the Mid Atlantic Championship.
–
His leadership and commitment to American College Cricket earned him selection as 1 of 5 College Cricket Players of 2010, as well as College All-American selections, in 2010 and 2011.
–
Gordon then played for the USA in Italy in the World Cricket League Division 4. Gordon took 3 for 21 against Tanzania, 3 for 25 against Argentina and wrapped up the tournament by destroying the batting of Italy, taking 4 wickets for 35. Italy had beaten the USA ,earlier in the tournament in a game which Gordon did not play. This effort helped USA climb to Division 3 (it later was relegated to Div 4 in the next tournament when Gordon was not selected).
–
March 2012 saw Gordon lead NYU-Poly again in the national Championship, where he smashed a record breaking 145*. No surprise he was named a Championship MVP, earning the opportunity to spend 10 days in the IPL with Rajasthan Royals !
–
Since graduating in 2011 with a degree in Biomolecular Science Gordon, with Jodah, has been considering a number of options, including one in Australia.
–
Adrian explained, "Mr Lloyd and I have been looking at different opportunities and the offer by Skegness Cricket Club to play in the Lincolnshire County Board Premier Cricket League is a good one. It would be during the summer months, from April to September – I can still pursue my Master's, but for nearly half the year I'll play the game I love !"
–
The contract was arranged through CricX.com, a Cricket Exchange Agency, and does not prevent Adrian from playing International cricket, "I appreciate playing for USA and wanted to remain available to play, if selected."
–
Adrian said, "I'll be going to England in April, so I'll be able to play in the March American College Cricket Spring Break Championship as one of the two alums allowed ! "