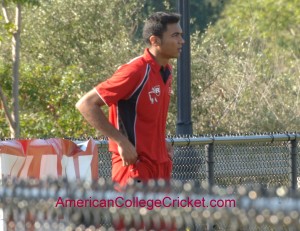 Saturday Oct 29,in the annals of world cricket will be looked back on as one of the most important days – Rutgers University played NYU-Polytechnic on TV in USA and Canada.
And what a game it was ! Coming down to the last over, the last ball !
Rutgers, trying to get 119 to win, had stuttered to 76 for 6 off 15 and their cause looked lost, with only 3 overs left in the 18 overs match. But Asad Ghous attacked the NYU-Poly bowlers for 2 fours and 3 sixes, before being run out, to make it 11 runs need in the last over !
NYU-Poltechnic's Adrian Gordon took the ball to bowl the final over. Gordon is one of the fastest bowlers in the USA.
First ball Gordon was struck for 6 by Taha Khan to make in 5 runs needed in 5 balls. A run later and it was 4 runs needed in 2 balls to win !
But then Gordon struck ! getting the next 2 Rutgers batsmen caught out on successive deliveries, he had won the game for NYU-Polytechnic !
Batting first Rutgers had lost 2 early wicketes before Vinti Kelkar,32 (2 fours,3 sixes) and Adrian Gordon,25 (2 fours 1 six) to them to 69 before Kelkar went in the 9th over. Divyesh Gandhi striking for Rutgers getting both Kelkar aand Gordon.
NYU-Poly managed to get to 118 off 18 overs helped by Somesh Batra's 26 (1 six,1 four). Divyesh Gandhi and Nisarg Choksi, Rutgers Captain, took 2 wickets each.
Rutgers lost 2 early wickets but and were struggling at 76 for 6 after 15 overs, with Haider Ali scoring18.   
So to celebrate its 3rd anniversary American College Cricket made a quantum leap for cricket in America by partnering with TV Asia for the momentous TV event.
TV Asia's viewers are part of the most affluent and highly educated demographic in the United States, and American College Cricket is the ideal television product for companies wishing to market to that audience. From BMW to Universities, major American and Canadian companies now have a new way to reach a key market. 
There were many logistical hurdles which were met by the Riverview Studios crew and TV Asia. The camera crew was filming cricket for the first time, and will get better with each game. Founder of American College Cricket Lloyd Jodah provided commentary.
Behind the scenes a quiet Hugh Pitter ensured the way was paved for the historic event on his home field, Spring Creek Cricket field aka Gateway, in Brooklyn. CricketzoneUSA made the TV Asia Trophy.
Having set the bar high, by being the first to webcast cricket in America back in March 20, American College Cricket has now taken the game to a whole new level in the USA and Canada.
Next Week : 7 pm on TV Asia : NJ Institute of Technology vs Ryerson University (of Toronto)