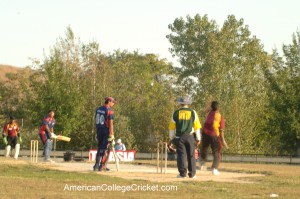 On 5 fields in Queens and Brooklyn NYC on a beautiful day for cricket, after pool play two highly favored teams, University of Pennsylvania and York College did not make it to the final four. 
Defending 2010 Northeast Champion Rutgers looked like a cohesive unit as they went undefeated, whilst Canadian Champion Ryerson, having beat York University (by 1 run) came in with a formidable reputation.
The NJ Institute of Technology team practised hard for this tournament, and they got the results, whilst NYU-Poly looked good. However now, in the final four draw NYU-Poly goes up against a team they have not beaten before,Rutgers, NJIT takes on Ryerson.
All 3 games will be televised on TV Asia. Play starts at 9 am Spring Creek Cricket Field, commmonly called Gateway, near the Gateway Shopping Center.. All 3 games will be televised on TV Asia.
University of Pennsylvania  defeated Boston University.
York College defeated UPenn.
Queen's College batted first and scored 135/7 and Rutgers  scored 139/4 in 17.1 overs to win. 
Boston University batted first and scored 121/9 and Rutgers smashed 122/1 in 11.2 overs. Queens College scored 97 in 18 overs, which Canadian champions Ryerson chased down in the 14th over.
Ryerson chased it down in 14th over.
NJIT.
batted first
scored 
179
/6
in 20 Overs.
York College
. 
134/9
in 17.3 Overs.
NJIT Won The Match by 45 Runs
*NJIT Run Rate: 8.95/Over
*York Run Rate: 7.75/Over
————————————————————————————————
Game 2: YorkCollege vs. 
UPenn
. at
 Cunninghum Park
York College batted first scored 152/5 in 20 Overs.
YorkCollege Won The Match by 61 Runs
*York Run Rate: 7.60/Over
*
UPenn
Run Rate: 4.55/Over
======================================================
NJ Institute of Technology defeated Vaugh College
Vaughn College lost too NYU-Poly
NYU-Poly defeated City College of NY