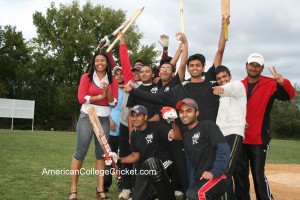 2010 Northeast Champion Rutgers University defend their title against 9 other colleges : Canadian Champion Ryerson University, Boston University, the nation's # 4 ranked University of Pennsylvania.
2010 national Finalist York College, NJ Institute of Technology, a new team from Seinfeld's alma mater Queens College and another new team from Vaughn College, last year's CUNY Champion City College, and # 12 ranked NYU- Polytechnic.
The top 4 teams, on points, go to the final four, and play Sunday Oct 9,starting at 8.30 am at Gateway (Spring Creek Cricket Field).
The Semis and the Finals will be televised by TV Asia (at a later date) on Dish, Comcast, Time Warner, Rogers, Bell and more across the USA and Canada
www.TVAsiaUSA.com
All teams must be at grounds by 9 am. Games start at 9.30 am        
1-Rutgers vs Queens College                                   73rd  Ave Queens,Queens at intersection of Francis Lewis Blvd 
2-Rutgers vs Boston U
1-UPenn vs  Boston U                                             Francis Lewis Blvd, Queens, at intersection of 73rd ave
2-UPenn vs  York College
1-NJIT  vs York College                                            Idlewild Cricket field , 223 rd St                        
2-Queens College vs Ryerson
1-CCNY vs Ryerson                                                 Baisley Pond Cage , Foch Blvd
2-CCNY vs NYU Poly
1-NYU Poly vs Vaughn                                            Spring Creek Cricket Field (Gateway)
2-NJIT vs Vaughn