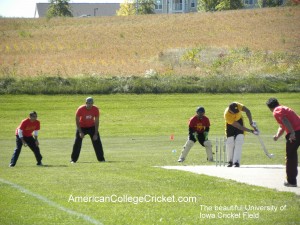 Though the University of Iowa belongs to the Big 10, and Iowa State University to the Big 12, the two universities have a strong rivalry in sports.
They compete annually  for the
Iowa Corn Cy-Hawk Series
trophy, an athletic competition between the two schools. Sponsored by the Iowa Corn Growers Association, the competition includes all head-to-head regular season competitions between the two rival universities in all sports.
Now the two schools have a new sport to battle in -cricket !
On the picturesque cricket field on the campus of the University of Iowa, the Hawkeyes and rivals the Cyclones of Iowa State University played for the Great Plains Championship. The Hawkeyes Cricket club led by its President Anup Gandhi had put tremendous effort into hosting the first small regional Great Plains Championship – now it was time to play !
On a perfect day for cricket ISU won the toss and decided to bat. Opening batsman Deepak Navi kept his end going, while wickets fell on the other. 
It started with a brilliant catch by Sajan at mid-on followed by a brilliant throw from Darren "Jonty Rhodes" Stortz creating a runout, and an amazing stumping by the wicketkeeper….. back to back on 3 legal deliveries. The Hawkeyes were on top with 3 wickets in the bag in just the second over.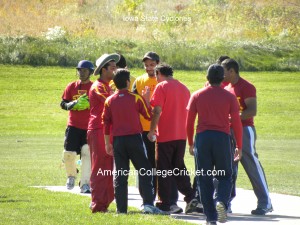 Deepak and Sannel steadied the innings. Deepak was the highest scorer for ISU (28 runs). The middle and lower middle order attempted to score some quick runs, but some good bowling by Nikhil and Anup restricted ISU to 97, bowled out in 18.5 overs. Pradeep was the leading wicket taker with 4 wickets followed by Nikhil (3 wickets) and Anup Gandhi(2 wickets).
The Hawkeyes started off cautiously. Iowa State's opening bowlers Anwar and Usman exhibited some accurate swing bowling. At the end of 9th over, the Hawkeyes were struggling at 19 for 3 when the captain Abhinabha went out to bat. An unfortunate runout ended the quick flow of runs by Abhinabha.
The middle and lower middle order got the Hawkeyes close, but great bowling by ISU restricted Iowa to 89 for 7 at the end of 20 overs. Abhinabha was the leading scorer for the Hawks (25) followed by Anup Gandhi. Usman was the leading wicket taker for the ISU Cyclones with 3 wickets.
Usman was adjudged the man of the match for his awesome bowling (3 wickets) and captaincy.
The Iowa State Cricket club, new to American College Cricket and not yet even in uniforms, won the first Great Plains Championship and made them eligible for the nationals in March, the 2012 American College Cricket Spring Break Championship ! Now the ISU guys are anxiously waiting for the new national rankings to see where they are !
by Lloyd Jodah