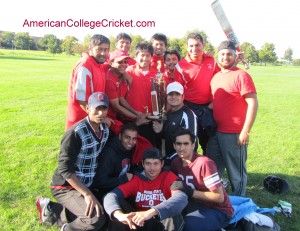 2010 winner of the Gordon Gee Trophy Purdue, fresh from their win over Indiana University, came into the American College Cricket Midwest Championship with a formidable record as the top cricket club in the Big 10.
In contrast, the new team from University of Buffalo was inexperienced, and happy to particpate in their first tournament. Both Purdue and Buffalo got off to a bad start: the Boilermakers lost to Carnegie Mellon whilst Buffalo were defeated by Cleveland State, Ishaan Bhatt took 3 wickets for 7 runs and Pavan 2 for 12 for the CSU Vikings.
The Carnegie Mellon Cricket club, hurriedly pulled together by Atishe Chordia working with Lloyd Jodah in 2009, was one of the original five teams that showed up in Ft Lauderdale Florida in March 2009, and showed a new path for cricket in America. They were part of some key innovations that spring for cricket in America and Canada.
The American College Cricket Spring Break Championship was the first "season ball" college cricket tournament in the USA, and the first national championship for colleges.
Three games were scheduled per day – another first which later rendered the 47 game 2010 Championship and the 67 game 2011 American College Cricket Spring Break Championship possible. 
The New York Times did a huge 2 page story in the Sports Section on the revolutionary 2009 event – the first time the nation's top paper had covered domestic cricket in modern times.
Autumn and rain had set in and the weather was tough on the cricket players on Saturday, but not even wet 50-something degrees weather would stop the cricket. Two games were reduced to 12 overs and batting was tough all weekend.
Carnegie Mellon then took on Penn State and defeated the Nittany Lions behind a 50 by Mudit. The OSU Buckeyes gave the inexperienced Buffalo team their second loss, as Anupam Vivek took 3 wickets for 8 runs,and Anoop 2 for 3. Nakul made 19.
Penn State then knocked 2010 Big 10 Champion Purdue out of the tournament, but Ohio State's win over Cleveland State earned Ohio State a place in the Finals against Carnegie Mellon University. 
However the bowling of the Buckeyes, particularly last year's Big 10 MVP Romel Somavat, overwhelmed the CMU guys and routed them for 28 runs. Somavat took 3 wickets to add to his 50 scored in an earlier game to earn the Midwest Championship MVP honors again ! Somavat was also one of 5 American College Cricket players of 2010 and a 2-time All American in cricket.
Ohio State easily chased the runs down to win the Gordon Gee Trophy !
The American College Cricket Midwest Championship for the second time bought exciting collegiate cricket to the Ohio State campus, and Columbus. The OSU Cricket Club, led by its President & Phd candidate Anupam Vivek continued their key role in American College Cricket by being great hosts and organizers.
The new Champion in the Big 10 – Ohio State Buckeyes !
More complete scores & photos to follow: