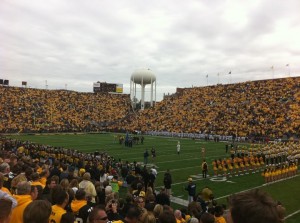 In Week 3 Ashton Kutcher showed up to watch his Hawkeyes, even as his debut on "Two and a half men" grabbed record ratings !
Kutcher attended the University of Iowa before dropping out to be a model.
Our colleges continued our dominance by winning 19 games and only losing 6 – an additional 3 losses by our teams were to our teams. 
WINS
Iowa State vs Connecticut    24 – 20
Purdue rolled over Southeast Missouri Stae  59 – 0
Penn State won vs Temple  14 – 10
Iowa won vs Pittsburgh  31 – 27
UF won vs Tennessee  33 – 23
Indiana U won vs South Carolina State  38 – 21
North Carolina won vs Virginia  21 – 17
UMN won vs Miami (Ohio)  29 – 23
Texas Tech wrecked New Mexico  59 – 13
Virginia Tech won vs Arkansas State  26 – 7
North Carolina State Wolfpack devoured South Alabama State  35 – 13
USF bulldozed Florida A & M   70 – 17
Houston won vs Louisiana Tech   35 – 34
Texas A & M  won vs Idaho  37 – 7
USC won vs Syracuse  38 – 17
Wooster won vs Oberlin 14 – 3
LOSSES 
Maryland lost vs West Virginia  31 – 37
Northwestern lost to Army  14 – 21
Michigan State lost to Notre Dame 13 – 31
Buffalo lost to Ball State  25 – 28
Florida State lost to Oklahoma  13 – 23
GAMES WE WON & LOST
Ohio State lost to UMiami 6 – 24
Clemson won vs Auburn   38 – 24
FIU won vs UCF  17 – 10