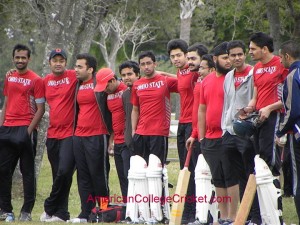 Last year Ohio State University President E Gordon Gee did us the honor of attending the American College Cricket Midwest Championship involving many Big 10 schools.
Purdue University took away the Gordon Gee Trophy,after an exciting Finals vs the OSU Buckeyes. No doubt Ohio State would like revenge against the Boilermakers.
Purdue University and Indiana University Cricket will, the week before on Sept 24,at the invitation of the Mayor of Indianapolis Greg Ballard, open a new cricket field in Indiananapolis. 
This year the Midwest Championship has been split, to create the Great Plains Championship and avoid the teams from farther west having to travel too far. In addition the Great Plains Championship will highlight the on campus cricket field of the University of Iowa, earned through the hard work of Anup Gandhi and the Hawkeyes Cricket Club.
Penn State has taken its place competing against other Big 10 colleges, whilst new team University of Buffalo will make its first American College Cricket appearance.  
Since the nationals will be restricted to 32 teams, teams will be motivated to earn as many points as possible to ensure they qualify for next March's American College Cricket Spring Break Championship.
Once again the guys of Buckeyes cricket, this time headed by Anupam Vivek, are hosting the Midwest Championship, as they did superbly, for American College Cricket's first regional last year.
Last year USU's Romel Somavat earned Championship MVP on the field, even as he played a tremendous role in organising the tournament.
SCHEDULE for SATURDAY OCT 1  – Start 8 am.
FIELD 1
Purdue vs Carnegie Mellon
Carnegie Mellon vs Penn State                          
Penn State vs Purdue
FIELD 2
U of Buffalo vs Ohio State
Cleveland State vs U of Buffalo
Ohio State vs Cleveland State 
SUNDAY OCT 2
The final four will be determined based on points earned, including Bonus points.
FIELD 1  -Semis 
FIELD 2 – Semis 
FINALS – on campus, on Ohio State University cricket field
 by Lloyd Jodah